Toward a Hydrogen Highway Network
News Articles
04/30/2004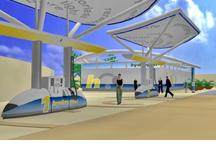 Alameda-Contra Costa Transit District (AC Transit, Oakland, Calif.) and ChevronTexaco (San Ramon, Calif.) announced an innovative cooperative agreement to build a state-of-the-art hydrogen energy station in Oakland, Calif., that will produce hydrogen fuel for fuel cell fleets.
The hydrogen will fuel AC Transit's fleet of 40-foot Van Hool/UTC/ISE fuel cell buses and future fleets of light duty vehicles (cars, SUVs, and small trucks) in support of Governor Arnold Schwarzenegger's vision of a hydrogen highway network in California. The station will have the additional capability of utilizing excess hydrogen production to generate high quality electrical power from a stationary fuel cell.
Dr. Donald Paul, ChevronTexaco's vice president and chief technology officer, unveiled an image of the AC Transit/ChevronTexaco hydrogen energy station during a keynote speech at the opening session of the National Hydrogen Association's annual conference in Los Angeles, Calif. The station is under development and is scheduled to be completed by August 2005.
Unique to the station's design is the use of small scale, onsite steam reforming of natural gas, to produce hydrogen in the most cost efficient manner for commercial applications. This approach is consistent with the findings cited in the recent National Academy of Engineering report on the hydrogen economy.
As noted by Rick Fernandez, general manager of AC Transit, ChevronTexaco's expertise in energy production and distribution combined with their practical, business-based approach to hydrogen infrastructure development, makes them an integral part of our development team. Their small-scale reformer will clearly make our program a true 'well to wheel' demonstration, of considerable economic value and environmental benefit to the communities we serve and the transportation industry. We hope to be able to show the ease and economy of operating fuel cell buses using hydrogen fuel produced on site at our facilities.
See our hydrogen fuel cell page for more information and resources about this exciting new technology.