Thank You, Riders
News Articles
06/15/2004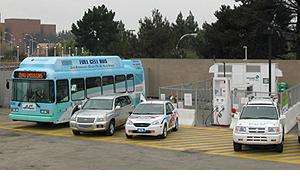 Thank you to everyone who called and wrote to express your opposition to Governor Schwarzenegger's proposal to take $20 million of AC Transit's property tax revenue each of the next two years. Your action, along with the unified support of AC Transit's legislative delegation, has led to an agreement with the Governor under which AC Transit will contribute 3 percent of its property tax revenue to the state for the next two years instead of the proposed 40 percent. As a result, AC Transit will contribute $3 million instead of the originally proposed $40 million.
Although this $3 million hit puts additional strain on the District's finances, AC Transit General Manager Rick Fernandez has stated that barring any additional financial storms, AC Transit should be able to weather this cut without additional service reductions.
This agreement includes BART and Marin Transit, which will also be required to contribute only 3 percent of their property tax funds to the state.
In exchange for a deal with cities, counties, and special districts (including AC Transit) to contribute a total of $2.6 billion in property taxes to the state's budget over the next two years, the Governor has committed to actively support a constitutional amendment for the November ballot. The amendment would lock in local property tax contributions to the state at their current levels. For AC Transit, this would mean zero contribution.
Thank you once again for your actions on behalf of AC Transit. You let the Governor know that AC Transit provides essential service to this community, and you made a difference. We appreciate your support!