Line M Ridership Takes Off
News Articles
09/20/2008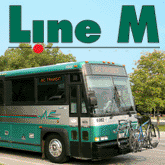 Line M Transbay Express is the most convenient way to travel over the Hayward-San Mateo and Dumbarton bridges. Every day, hundreds of commuters sit back and enjoy Line M's comfortable highway coaches as they cross the Bay.
Line M offers frequent service during peak commute hours (as well as some mid-day and weekend service) and convenient stops at key commuter locations on both sides of the Bay.
If you're ready for a less stressful and more economical commute (that also happens to be great for the environment!), consider the perks of AC Transit's Line M:
Commuter-friendly schedule

Connections to BART and Caltrain

Free wireless Internet access

Room for four bicycles

No bridge tolls, gas expenses, and parking hassles
Ready to give it a try? Click here for Line M map, schedule, and stop list.