Fuel Cell Bus at Emeryville Town Hall Meeting
News Articles
11/10/2008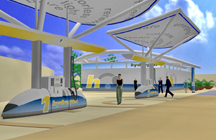 People who live and work in Emeryville were invited to a Town Hall Meeting about AC Transit's Hydrogen Fuel Cell Program and Proposed Emeryville Energy Station. See the Meeting Agenda.
The event was held Saturday morning, November 15, 2008, at 10:30 a.m.  A 45-minute presentation about AC Transit's hydrogen fuel cell program and its proposed Emeryville Energy Station, followed by questions and answers was held.
The Town Hall Meeting was held in the Emery High Cafeteria, which is located at 1100 47th Street in Emeryville.
Since first testing a prototype fuel cell bus in 1999, AC Transit has become recognized as a world leader in the development of advanced technologies to improve the environment. AC Transit has been operating a fleet of three zero-emission, hydrogen fuel cell buses in regular service throughout the East Bay since 2006. You may have had the opportunity to ride one yourself along the 57 line in Emeryville.
With special grants and private contributions, AC Transit is building a new hydrogen fueling station and an expanded fleet of zero-emission, hydrogen fuel cell buses to serve Emeryville and other East Bay cities, beginning early 2010.
The proposed hydrogen energy station planned for AC Transit's Emeryville Division at 45th and Doyle Streets, will fuel up to six fuel cell buses and as many as 15 fuel cell cars with hydrogen produced on site. The cars will be fueled with hydrogen made entirely from renewable power derived from solar arrays on the rooftops of AC Transit buildings. The buses will receive hydrogen made from reforming natural gas (the same gas used for cooking and heating) with steam.
Hydrogen, a primary element in the water we drink, is a completely clean, non-toxic energy carrier, and at least as safe as the gasoline we are used to using every day. Hydrogen fuel cells can safely propel fully loaded buses up hills and along major thoroughfares, and the ONLY emission from the tailpipe is pure water vapor – ordinary steam.
To get to the meeting by public transportation, use AC Transit Lines 14, 19, 57, 72, 72M, and F, as well as the Emery Go-Round City Shopper and Bart Shopper lines, serve Emery High School. There is also street parking available on 47th Street between San Pablo Avenue and Doyle Street. The meeting is wheelchair accessible.
For the hearing-impaired, an ASL interpreter will be present at the meeting, if requested. To make arrangements, please call (510) 891-7261 by 5:00 pm, Monday, November 10.
RSVP to attend, if possible.  Call 510 891-4877, or send an e-mail to fuelcell@actransit.org by November 12.  Read more about AC Transit's Fuel Cell Program.