Free Fares on AC's "Holiday Bus"
Press Releases
11/26/2008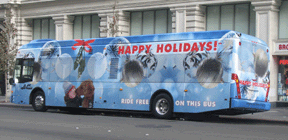 In the spirit of sharing this holiday season, all passengers who board AC Transit's decorative "Holiday Bus" will get free rides to their destinations.
Every year, AC Transit transforms one of its buses into a special holiday coach with a brightly colored paint job that depicts the joy and merriment of the season. Each day, the bus runs along a different route, giving riders throughout the District a chance to both see and ride the festive-looking bus.
And again this year, in a gesture of appreciation of our loyal patrons, AC Transit has added a twist: The coach's fare box will be covered for the duration of the holidays. That means anyone who boards the bus this Thanksgiving Day weekend through December 31, 2008 will be allowed to ride for free.
"We are a part of this community, we appreciate this community and we want to do what we can to give something back to those who have supported us over the years," said General Manager Rick Fernandez. "We realize –especially at this time of year– that some of our patrons don't have much and, as a public transit agency we don't either. But we hope the free 'Holiday Bus' makes the season a little bit brighter for some of our riders and their children."