AC Transit's Real-Time System Wins "Project Of The Year"
News Articles
01/20/2011
"Innovative" Says International Transportation Engineers Group
AC Transit's real-time bus information system, provided by NextBus, has been awarded the 2010 Project of the Year by the Institute of Transportation Engineers — San Francisco Bay Area Section (ITE.)
AC Transit was honored for "innovative…technologically advanced" engineering in implementing the computerized system on every bus within the agency's service area. Most notably, the transit agency was singled out for making "innovative approaches (under) unusual circumstances" that proved to be unique, cost effective and publicly embraced.
ITE is an international educational and scientific association of transportation professionals who are responsible for meeting mobility and safety needs. Among other things, it facilitates the application of technology and scientific principles to planning, functional design and implementation for all forms of ground transportation.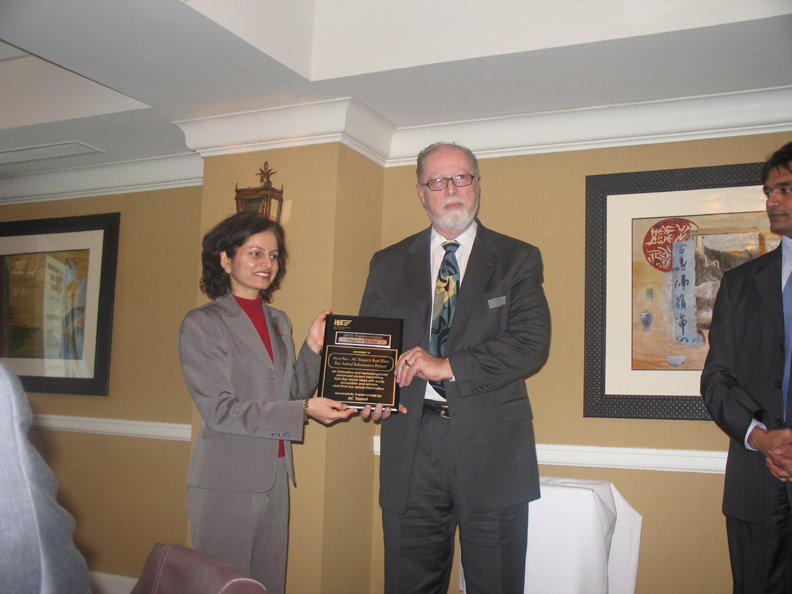 "This ITE award is very prestigious and we could not be happier to receive it,'' said AC Transit Interim General Manager Mary King. "Our goal is to provide reliable service because we know how important it is to our riders.  This award acknowledges that we are getting closer to reaching that goal."
The availability of real-time information is a revolution in bus travel. It improves the bus experience by letting riders know when their bus will be at their stop and allowing them to plan other activities (e.g. picking  up dry cleaning, stopping at the store, etc.)
Using GPS technology to track buses and taking into account typical traffic conditions, real-time information takes the guesswork out of catching the bus, so no one now needs to wait longer than necessary. Research shows that such information reduces passengers' perceived wait times and, subsequently, their anxieties about delays.
AC Transit's real-time information is accessible by computer, cell phone, or smart phone. Passengers can request real-time information with a phone call or text message and even schedule e-mail alerts for bus stops they use regularly. Every AC Transit bus stop has been assigned a bus stop ID number that is now available online to make calling and texting even faster. Eventually, these ID numbers will be posted at the actual bus stops. Riders simply need to go online at www.actransit.org/nextbus to get on board with this free service that is bound to enhance their commute.
There are also NextBus electronic signs  at in the Downtown Berkeley and Fruitvale BART stations, as well as  over 100 LED signs in bus shelters along the 1R route (from San Leandro BART, through Oakland to Berkeley) and the 72R route (from Richmond to downtown Oakland).