The Freedom Bus Project's Art Exhibition and Community Celebration Attracts Hundreds of Attendees . . .
Press Releases
03/30/2011
Honors Local Civil Justice Heroes
Highlights Student Artists and Performers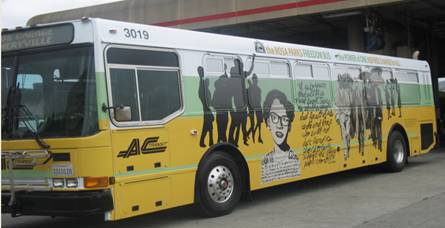 Oakland, CA (March 30, 2011) – The Freedom Bus Project's Art Exhibition and Community Celebration, held in Oakland's Uptown district on Friday, March 25th, was a great success for the community as more than 175 community members, business people, local officials and student artists gathered to honor all civil rights movements and launch the official AC Transit Freedom Bus into service. Alameda County Superintendent of Schools Sheila Jordan and AC Transit Director Joel Young led the event program by welcoming guests; Executive Director Dria Fearn introduced student artists and recognized their achievements.
In attendance was Alameda County Probation Department Chief David Muhammed, who accepted certificates on behalf of the Juvenile Justice Center students who could not attend the event. Twenty-two high school students from the Juvenile Justice Center's Butler Academic Center collaborated on the "Claudette Colvin" piece that was selected as a winning entry for the mobile art exhibit, which will appear on more than 200 AC Transit buses. It was also announced that their artwork will appear on Clear Channel bus shelters throughout the AC Transit service district.
Other winning artists include Isaiah, a 4th grader from Southgate Elementary in Hayward, Jessica, a 5th grader from Lorin Eden Elementary in Hayward, and Lawrence, a 6th grader from Lorin Eden in Hayward. Honorable Mention honors went to Marilyn, a 4th grader from James Madison Elementary in San Leandro, and Natisha, a 7th grader from Portola Middle School in El Cerrito.
Superintendent Sheila Jordan notes, "We were all mesmerized by the breathtaking art, students submitted to produce the Freedom Bus Tour's artwork. We look forward to touring the Freedom Bus tour around the county; and invite schools and families to engage in conversations about social justice, and what "civil rights" means in today's world.
Also in attendance were Oakland Mayor Jean Quan, Assemblymember Nancy Skinner, several AC Transit Boardmembers including Board President Elsa Ortiz,  and  local civil rights activists, including Bay Area Veterans of the Civil Rights Movement members Gay Plair Cobb, Steve McNichols, Wazir Peacock, and Jimmy Rogers, who participated in the Freedom Rides.
AC Transit Interim General Manager Mary King noted the significance of a bus as the catalyst for America's Civil Rights Movement, and conducted a presentation on the artistry and technical aspects of wrapping the Freedom Bus with student artwork. Guests were moved by students from Berkeley High School's Arts and Humanities Academy who spoke about their creative process of producing the artwork for the exterior of the Freedom Bus. Assemblymember Nancy Skinner presented AHA! students with a certificate recognizing their accomplishment. Notes Mayor Quan, "As a former organizer I know that one person can make a difference, so I'm excited to be involved with the Freedom Bus Project, which combines civil rights education and the arts to show children that they have the capacity to make change."
Executive Director of the Freedom Bus Project, Dria Fearn, comments, "I am thrilled by the turnout Friday night and the continued support of local, elected officials, educators, and the business community. To have such widespread support of the arts, education, and civil rights, and to come together as a community, speaks volumes to the diversity of the Bay Area and our shared commitment to social justice. "
The Freedom Bus Project is a joint effort by the Alameda County Office of Education and Alameda-Contra Costa Transit District (AC Transit), in conjunction with West Contra Costa Unified School District and Art IS Education. The Freedom Bus Project honors the 55th anniversary of Rosa Parks' historic bus ride in Montgomery, Alabama. Commemorating this historic event, and all civil rights movements, the Freedom Bus Project was launched to celebrate the East Bay's rich diversity and legacy of community activism. The project engages youth across the East Bay to learn about and express their unique visions of social justice through the arts. Over 30 pieces of original student artwork and the official Freedom Bus were on display during the community event. Student performances included a solo performance of "A Change is Gonna Come" by Rebecca Dharmapalan, and a scene from "The Laramie Project" read by theater students from the Oakland School for the Arts.
Elementary, middle and high school students in the AC Transit service district, which spans Alameda County and West Contra Costa County, have submitted social justice-themed artwork to be considered for the Freedom Bus Project's mobile art exhibit. Starting in April, four winning entries will be displayed in over 200 buses in the AC Transit fleet, allowing AC Transit riders to participate in the Freedom Bus Project. This "mobile art exhibit" will be on display throughout the month of April.
Additionally, artwork created by Berkeley High School Arts and Humanities Academy students depicting scenes from the Civil Rights Movement and the  Montgomery Bus Boycott has been "wrapped" by Titan Worldwide onto the exterior of the actual  AC Transit Freedom Bus. The  Freedom Bus has been placed into regular service and will roam throughout the District's service area for at least two months. Later in April, the Freedom Bus will also embark on a one-day Freedom Bus Tour, with stops at three of the schools  that participated in the art exhibition and competition.
The Freedom Bus Project's Art Exhibition and Community Celebration also served as the final featured event for Art IS Education, a month-long celebration of arts learning in Alameda County in March. For the past eleven years, Art IS Education has honored the artistic talent of countywide students and provided opportunities for students to share with their community what they are learning in and through the arts.
- – - – -
About the Freedom Bus Project
The Freedom Bus Project was launched by AC Transit and the Alameda County Office of Education, in association with Art IS Education and West Contra Costa Unified School District, to celebrate the 55th Anniversary of Rosa Parks' historic bus ride in Montgomery, Alabama, which ignited the 381-day Montgomery Bus Boycott and the Civil Rights Movement. This collaborative, interagency project recognizes the important role that individuals and public transit have played in civil rights movements, celebrates the East Bay's rich diversity and legacy of community activism, and engages youth to learn about this legacy and express their visions for social justice through the arts. For more information, contact: Freedom Bus Project  at (510) 788-0450 www.freedombusproject.com or email project@freedombusproject.com.
About AC Transit
AC Transit is one of the largest transit agencies in California, serving over 64 million passengers a year throughout a 360-square-mile region. For 50 years, AC Transit has been recognized as a national leader in the transit industry. AC Transit has repeatedly captured the American Public Transportation Associations' "Best of the Best" Award for superior maintenance and operations. The Environmental and Energy Study Institute (EES) of Washington, D.C. named AC Transit a "National Clean Bus Leader" for its advanced environmental technology initiatives. Additional information about AC Transit is available at www.actransit.org.
About ACOE:
The Alameda County Office of Education has fiscal oversight of all eighteen Alameda County public school districts. ACOE provides over 500 programs and services to district offices in all aspects of school operations including professional development and credentialing services for educators. ACOE fosters student achievement and development through leadership, innovation, and accountability in partnership with the public, educational community, and parents. www.acoe.org
About Art IS Education:
Art IS Education is a program of Alliance for Arts Learning Leadership, a project of the Alameda County Office of Education in partnership with the Alameda County Arts Commission. Art IS Education is an annual showcase of arts learning in Alameda County schools in March, which is national arts education month. Over the last 11 years, Art IS Education has become a highly visible countywide event that creates a vehicle for K-12 students to share with their community what they are learning in and through the visual and performing arts. "Creating Solutions for the World We Share" is this year's Alameda County Art IS Education theme which encourages youth to express through the arts creative solutions for how we can take care of ourselves, each other, and the planet. www.artiseducation.org
Media Contacts:
AC Transit: Clarence Johnson, Media Affairs Manager, 510.891-4745, cljohnson@actransit.org
Alameda County Office of Education: Claudia Medina, ACOE Communications, 510.670.7754, claudiam@acoe.org
Freedom Bus Project: Sarah Kidder, Publicist, 510.832.2032, sarah@sarahkidderdesigns.com
# # #