Vincent C. Ewing Named General Counsel
Press Releases
12/14/2011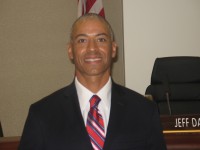 Highly Experienced Public Law Litigator
After an exhaustive statewide search, veteran public law attorney Vincent C. Ewing has been was named General Counsel for AC Transit by the agency's Board of Directors.
As a former Deputy City Attorney for Los Angeles, Assistant City Attorney for Santa Rosa, City Attorney for East Palo Alto, and a prosecutor of violent crimes for the City of Los Angeles, Mr. Ewing brings vast experience in a variety of legal arenas, especially public law.
A graduate of Howard University School of Law, Mr. Ewing has advised city councils, city administrators, city managers, and elected boards and commissions on issues ranging from government and fiduciary responsibilities to matters of general law concerning land use, due process, the Brown Act, labor, risk management, city charters and other public policies.
 "In a general counsel, professional competence is most critical," Board President Elsa Ortiz said. "Mix competence with a well-developed moral compass, a highly-valued work ethic, a clear understanding of the meaning of public service, enthusiasm and the stamina of the energizer bunny—  and that is Mr. Ewing. He is precisely the person we were seeking."
Board officers of high quality are essential to the successful operation of the District. With General Manager and General Counsel vacancies– the top two positions at AC Transit—the Board relishes the opportunity to fill the posts with people who can provide new direction, new energy and new approaches, Ortiz said.
Mr. Ewing has 12 years of California municipal law experience. He has a highly successful litigation record and has provided impartial legal analysis and administrative guidance on a variety of ballot measures.
Mr. Ewing holds a B.A. from UCLA and a J.D. from Howard University School of Law. He was selected as AC Transit General Counsel after distinguishing himself from a field of nearly 40 applicants for the position. He now lives in Alameda with his wife and three daughters.
 -30-