Transportation Expert To Lead Bus Rapid Transit Program
News Articles
01/24/2012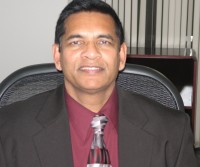 AC Transit is proud to announce the hiring of a veteran transit engineering expert to head the agency's Bus Rapid Transit Program. Arul Edwin, who has successfully managed similar transportation projects from Boston to Seattle, is now the Program Director for a BRT plan that will modernize and improve East Bay bus service. 
"As director, Arul Edwin brings strong credentials and a wealth of experience to our BRT program at a critical time in its development," said Interim General Manager Mary King.  "His leadership skills in public transit– including mitigating community concerns as well as traffic and environmental issues– will shepherd the project's design, engineering, and construction activities, creating much-needed jobs and stimulating local businesses and economic development." 
 Once completed, the BRT system promises to reduce travel times, traffic congestion and ozone emissions, and generally benefit the environment overall.
 Among other things, Edwin served as Area Traffic Manager for the Central Artery/Tunnel Project in Boston for the Massachusetts Highway Department. His duties included performing construction staging, Intelligent Transportation System design and implementation, and traffic management during construction for the downtown area.
 In addition, Edwin has been the Project Manager for the I-405 Design Build/ Bus Rapid Transit Project in Seattle, WA; has served as Project Manager for the Santa Clara County Measure A Program– preparing a Strategic Plan and Capital Project planning; and, as the Design Manager, has prepared environmental documents, and final bid documents for freeway widening and interchange implementation.
 Edwin has a bachelor's degree in civil engineering and three master's degrees, including one from UC Berkeley, specializing in transportation engineering.  
 Edwin's strong 25-year background with large scale transit projects, and his years of local experience and training, makes him "the perfect fit" for AC Transit's BRT program, King said.
 "I am pleased to have the opportunity to join this program at this critical stage in development," Edwin said.  "It is one of highest rated and most beneficial transit developments in the region and it will soon be ready to put people to work."
 Construction of the BRT project will create local construction jobs and contribute to the economy by generating additional jobs that will support construction. Construction is expected to begin in 2014, and be fully implemented in 2016.
 About Bus Rapid Transit (BRT)
 AC Transit's vision is to provide a truly world-class transit service that is convenient, reliable and safe; one that increases mobility, enhances the quality of life, and improves the health of the environment throughout the communities it serves. Bus Rapid Transit (BRT) will link one of the busiest traffic corridors in the country with a fast, economical and environmentally-friendly means of transportation. BRT will be a high-capacity rapid transit system that reduces passenger travel times. With dedicated lanes and signal priority, and prominent stations with convenient boarding of buses, BRT will offer residents a viable alternative to driving on congested city streets. It will reduce traffic levels, significantly cutting emissions and pollutants. BRT is essentially light rail without the tracks. It combines the express service and capacity of light rail with the convenience and affordability of riding the bus. It can be planned and built at much less expense, and more quickly, than traditional light rail systems.