David J. Armijo: New GM For AC Transit
News Articles
02/08/2012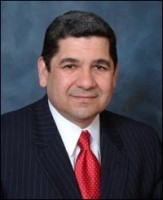 After a lengthy search, David J. Armijo has been appointed as the new General Manager for AC Transit by the agency's Board of Directors.
"We are pleased and honored to have David Armijo join AC Transit," said Elsa Ortiz, president of the Board of Directors. "We welcome his commitment to changing our transit system to improve services for our riders, provide transparent and ethical leadership to our organization and its employees, and help chart a course for the next century of service to Alameda and Contra Costa transit.
The AC Transit Board of Directors conducted an extensive search for a permanent General Manager to replace the retiring Mary King, who led the transit district since October 2009.  She was unanimously praised by the AC Transit Board for her dynamic leadership during a period of financial crises at the national and state level that dramatically impacted funding for public agencies such as AC Transit.
"Mary King deserves significant recognition for her unwavering support of bus riders, this district and the taxpayers who support us for her thoughtful and wise leadership during the past three years," Ortiz added.  Ms. King said she will now continue her public affairs and government relations consulting practice in the private sector.
Originally, Armijo headed the search firm hired to find a permanent general manager, but after extensive interviews and several candidates unwilling to accept reduced pension packages, the board each submitted names of possible candidates and Armijo's name was submitted by board members.
"We created a new process for this final round of interviews to ensure that Armijo was treated like every other candidate we considered," Ortiz said.  "He was our first choice and we are glad that we have him joining our district."
Armijo will begin his tenure as general manager on March 1, 2012.
AC Transit is an innovative, modern bus system, owned by the public of the East Bay. With an annual budget of $320 million, AC Transit serves nearly 200, 000 riders daily and employs 1,750.  The district is the third-largest public bus system in California, serving 13 cities and adjacent unincorporated areas in Alameda and Contra Costa counties. AC Transit has been serving the East Bay since 1960, taking over from the Key System and its predecessors, which carried passengers via buses, horse-drawn rail, electric streetcars, and ferries over the previous 100 years. AC Transit's mission is to provide safe, convenient, courteous, and reliable transit service.
Armijo Background
Armijo has more than 30 years of experience in government and is a highly recognized transportation executive working in aviation, toll roads, and the public transit industry. He has served as chief executive for transit agencies in California, New Mexico, Texas and Florida. He specialized in bus and rail planning, capital program development, aviation leases, grants, contract negotiations and public involvement.
Armijo's collaborative leadership style has proven effective in working closely with elected officials, stakeholders and the community. Additionally, Armijo has extensive experience with collective bargaining, working closely with labor unions and management to successfully negotiate labor contracts.
Most recently, he served as chief executive officer for Hillsborough Area Regional Transit Authority (HART), responsible for a multi-modal system of bus and rail; including completing the expansion of the TECO Streetcar System. Armijo led HART to record achievements during difficult economic times, including; recognition in 2009 with the Florida Public Transportation Association Outstanding Transit System Award, and recognized nationally in 2010 with the Outstanding Public Transportation System Achievement Award by the American Public Transportation Association (APTA).
Board President Ortiz said that Armijo comes to the district with a strong background in making improvements and change.  She noted that he was an agent of change in Tampa, Florida, replacing a third of its buses, revising schedules and doubling the number of bus stops while attracting more riders.
"We want and we need strong leadership during the continuing financial crisis that public agencies like ours face," Ortiz said.  "We were impressed by the improvements he made in Tampa, and his thoroughly professional manner."
The American Public Transportation Association selected Armijo to serve on its Executive Committee. He also serves on the APTA Board of Directors, Legislative and Work Force Development Committees and he serves as co-chair of the Conference of Minority Transportation Officers COMTO's Succession Planning Committee.