Dumbarton Express Service Nearly Doubles on July 2.
News Articles
06/12/2012
On July 2, the Dumbarton Express lines DB and DB1 began new and expanded service between the East Bay and the Peninsula via the Dumbarton Bridge. A proposal to expand the service was approved by the AC Transit Board of Directors in April, following a period of public comment and a public hearing.
Highlights of the expanded DB and DB1 schedule, and route restructuring, include:
Increasing overall service levels by approximately 80 percent; in particular, Line DB1 will offer more than three times the current number of daily trips, and additional Line DB trips will be added earlier in the day and later in the evening.
Extension of Line DB from the Palo Alto Caltrain station to the Stanford Oval to help relieve overcrowding on AC Transit's Line U.
Discontinuation of the segment of Line DB south of the Caltrain station, along El Camino Real and Page Mill Rd.
Extension of Line DB1, as well as increased frequency, to serve the entire Page Mill/Deer Creek Rd. loop, including the eliminated Line DB route segment along Page Mill Road*.
In addition, all DB Express buses are now equipped with new wi-fi technology, and Real-time departures information will be available soon. 
Shown below are the restructured routes, which took effect onJuly 2.  To view an alternate map which compares current DB and DB1 routes, with the new routes, click here.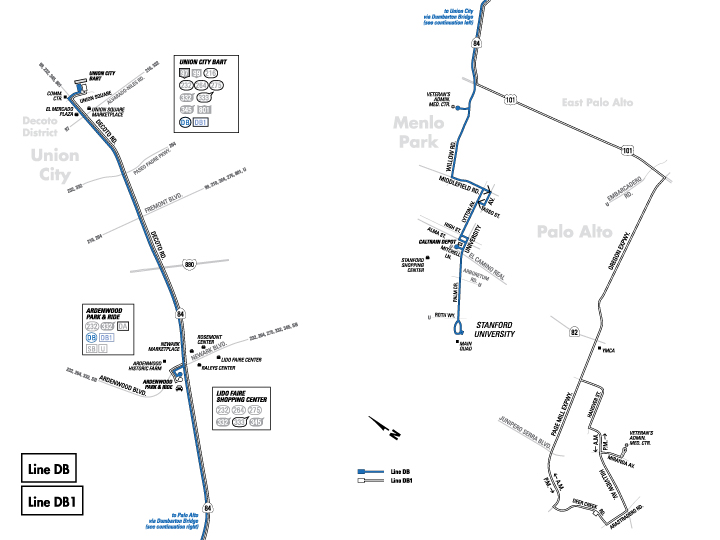 The Dumbarton Express service, overseen by the Dumbarton Bridge Regional OperationsConsortium (DBROC) – comprised of AC Transit, BART, SamTrans, Santa Clara Valley Transportation Authority, and Union City Transit – is operated and maintained under contract with MV Transportation. AC Transit administers the Dumbarton Express service on behalf of the Consortium.
* The discontinued route segment along El Camino Real, between the Caltrain station and Page Mill Rd., continues to be served by VTA's Line 22.