Safeway Joins EasyPass Program
News Articles
10/11/2012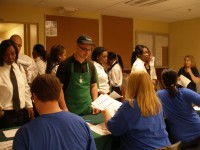 AC Transit is proud to announce the participation of Safeway Inc. in the AC Transit EasyPass program. On October 5, Safeway reopened its Shattuck Place store in Berkeley after a state-of-the-art expansion. In conjunction with the reopening, the company is providing every store employee unlimited access to AC Transit service as a free benefit.
"We're excited about our new partnership with Safeway," said AC Transit General Manager David Armijo. "EasyPass emphasizes the personal and environmental benefits of using public transit, and we look forward to seeing Safeway employees on our buses."
As Keith Turner, Safeway's Director of Public and Government Affairs, explained, "With this benefit, the company is encouraging our 185 store employees to help reduce traffic congestion and greenhouse gas emissions, and take every advantage of commute-cost savings."
AC Transit representatives were on hand for staff orientation at the store, taking each employee's photo for a personalized Clipper card loaded with the EasyPass and imparting the how-tos of riding the bus. The location is served by local bus lines 7, 18, 25, and 67, and by transbay line FS.
Safeway becomes the EasyPass program's first corporate client, joining a growing number of employer, college, and residential clients in the AC Transit service area. The program offers a group benefit at great savings, with pricing based on the number of eligible participants and the level of transit service provided at the client's location. AC Transit hopes more businesses in Berkeley and beyond will follow Safeway's example.
AC Transit welcomes inquiries about setting up an EasyPass program. Learn more here.