Show Your A's Spirit and Win an AC Transit Bus Pass!
News Articles
10/11/2012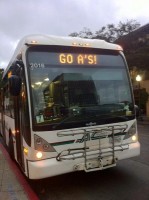 We know you love the A's, and we do too! In honor of our remarkable hometown team,  we're giving away a 9-Day bus pass on Clipper.
All you have to do to be eligible is post a photo on Twitter @rideact  or our Facebook wall showing A's spirit on an AC Transit bus. It can be a bus with the "Go A's!" #headsign, or fans taking the bus to the game . . . bonus points if those fans are doing the Bernie!
As long as the A's keep winning, we'll accept your entries, then draw a winner, and post the photos on our Facebook page, www.facebook.com/rideact. Those of you who have already shared photos over the past week will be included.
Go A's!