Engineering Expert Heads Bus Rapid Transit Program
News Articles
10/18/2012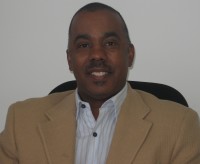 AC Transit has named David Wilkins, a veteran of the U.S. Army Corps of Engineers to head the agency's Bus Rapid Transit (BRT) Program.  Mr. Wilkins, who has domestic and international experience developing multi-million dollar budgets, managing contracts and administering complex capital improvement programs, will be the Program Director for a BRT plan to modernize and improve East Bay bus service.  
"As Director, David Wilkins, brings strong credentials and a wealth of experience to our BRT program at a critical time in its development," said AC Transit General Manager David Armijo.   "His background and leadership skills are impeccable.  He has supervised the delivery of large and complex projects on time and within budgets, making him the ideal person to steer the BRT project through its final design, engineering, and construction phases." 
Once completed, the BRT system promises to reduce travel times, traffic congestion and ozone emissions, and generally benefit the environment overall.
Mr. Wilkins retired from the U.S. Army Reserve with the rank of Lt. Colonel, after a long and distinguished 25-year career in which he completed an eleven month tour as the Base Engineer and Director of Public Works at Bagram Air Force Base, solely responsible for the infrastructure development, life support operations and facility management of the largest military base in Afghanistan.
Mr. Wilkins served as Program Manager and Project Leader for numerous other ventures, most recently as the Western Regional Director for Luster National, Inc., an international firm that specializes in the management of capital improvement programs.
Highlighting Mr. Wilkins's nearly 30-year career is his tenure as Site Manager for the Hunters Point Shipyard Redevelopment Program—a mixed use development of 2000 home sites and commercial space. He led a team of contractors and specialty consultants from the entitlements phase through the completion of demolition and grading.
Mr. Wilkins also earned awards for his service as Program Director of the Environmental Cleanup Program at the Presidio National Park in San Francisco. There he developed and implemented the Base Cleanup Plan; developed and administered a $100 million budget; negotiated cleanup and abatement actions with regional, state and federal authorities; administered cleanup actions at the former Letterman Hospital; and was honored for using innovative technologies to save more than $10 million in clean up costs.
 "My mission here is to get the BRT designed, built and placed into operation within budget, on schedule and to the exacting standards set by AC Transit and the FTA,'' Wilkins said. "I love a challenge and this is a significant challenge.  I hope the community is excited about this project coming to life."
Mr. Wilkins has a B.S. in General Engineering from the U.S. Military Academy at West Point, a M.S. in Environmental Management from the University of San Francisco and is a graduate of the Army's prestigious Command and General Staff College.
The BRT project is more than just a transit project. It is an economic development project that will contribute to the economy by creating local construction and construction support jobs as well as stimulate the growth of businesses along the corridor due to the new service. Construction is expected to begin in 2014, and the BRT system fully implemented in 2016.