History of East Bay Transit Exhibit at the Oakland History Room
News Articles
11/05/2012
The Oakland History Room at the main library is currently exhibiting a history of East Bay transit through the end of November. The exhibit chronicles the formation of AC Transit, BART, and the ferry system in photos, newspaper clippings, and memorabilia. Check out the exhibit to see how the Key System, Southern Pacific's Big Red Cars, and the extensive Bay Area ferry service became the public transit system that we use and enjoy today.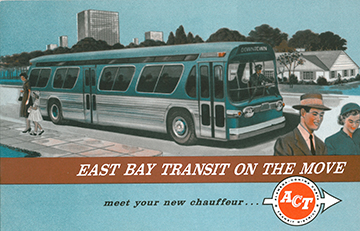 The Oakland History Room is on the second floor of the Oakland Main Library at 125 14th Street in downtown Oakland. Admission is free. Hours of operation are
Monday: 10:00am–5:30pm
Tuesday: 10:00am–5:30pm
Wednesday: 12:00pm–8:00pm
Thursday: 12:00pm–8:00pm
Friday: 12:00pm–5:30pm
Saturday: 10:00am–5:30pm
Sunday: 1:00pm–5:00pm
If this exhibit whets your appetite for more AC Transit history, check out our history pages for a complete collection of the Transit Times newsletter, a bus roster, and much more.