New Buses Rolling In
News Articles
11/13/2012
The first of 65 new buses has been delivered to AC Transit, and although it may look ordinary, this 40-footer is special.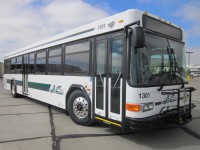 When the AC Transit Board of Directors decided to purchase the buses from the Gillig Corporation in Hayward, it was more than a casual embrace of a "buy America" policy, or a way to merely upgrade our fleet.  It was a multi-million contract for a local firm to provide dozens of local jobs and stimulate regional business.
"It is great that we are intensifying our effort to buy American products by opting to purchases buses that are actually made in our service area,'' AC Transit Board President Elsa Ortiz said. "This is part of our recipe to make sure we are providing our patrons with as much service and assistance as possible."
The new bus functions like a dream and is decidedly passenger-friendly.  It's a low-floor coach, allowing riders to easily board and seat themselves. This reduces the chances for passenger falls, minimizes the dwell time at bus stops and, in the process, helps to keep buses on schedule–which makes us all happy.
But this bus doesn't stop there. It has an elaborate catalytic reduction and gas recirculation system that converts hazardous nitrogen oxide emissions into harmless nitrogen and water. This system makes these new buses 90-percent cleaner than the older ones they replace.
The seats, with an innovative design, are plastic inserts that can be easily replaced if need be. The exterior panels, if damaged, can be quickly removed, too. Just loosen two bolts, take off the old panel and slap on a new one.
The engine compartment is unusually spacious for easier, faster maintenance. The hoses and hydrolytic system are remarkably superior to ensure reliable overall mechanical functions. And replacement parts are quickly had because they're practically made in our backyard.
It all means fewer and faster repairs, more vehicles on the road providing service, enhanced on-time performance, lower emissions, reduced maintenance costs, and a significant financial savings.
A prototype has been delivered, and more of the buses are due to arrive for regular service next summer.