Announcing the Winners of AC Transit's "My Transit Resolution" Contest!
News Articles
01/16/2013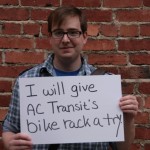 During the holidays, we asked passengers to like us on AC Transit's Facebook page and send us their "Transit Resolutions" for 2013. Five winners were randomly chosen – and those lucky folks are receiving some great prizes! Throughout the contest, we not only gained a few hundred new "Likes" on our Facebook page, but enjoyed reading many thoughtful transit resolutions.
And the winners are…
Erica Gleason won tickets to Saturday's Martin Luther King tribute concert at the Paramount Theater. She told us, "I've met some wonderful people on AC Transit. Lots of wonderful people from my neighborhood on our way to work, lots of lovely people on the way home. My transit resolution is to meet and chat with more wonderful people than ever!"
Evan Stone will receive a gift certificate to Flora, a hip restaurant in Oakland, for submitting his resolution: "To only fill up my gas tank once a month…while using AC Transit as much as possible."
Mary Ryan won a $25 gift card for Oaklandish, a cool Oakland gift shop. She resolved "to let the bus drivers know how much they are appreciated. I am in a wheelchair and without their assistance I would not enjoy as much freedom in being able to get out and live life to the fullest."
Peter Ahlstrom receives an AC Transit 31-Day bus pass. His resolution: "Take one route a month that I normally don't to discover a new neighborhood."
Rebecca Schneider won $25 worth of movie tickets at AMC Theaters. She said, "I'm going to register my Clipper Card so that I can reload it online and keep it full."
Here are just a few examples of other transit resolutions submitted:  
I'll thank my drivers, by their name, every time I ride the bus.
I plan to ride AC Transit to work at least 3 times a week.
I'll get to know my transit neighbors. I ride the bus every morning and evening, so I hope to utilize the time to get to know other people riding the bus.
I'll take public transit on the weekends instead of driving!
I will reflect on the everyday things I take for granted and give thanks for them like my bus stop buddies, my hardworking bus driver, the extensive bus system of AC Transit and the beautiful city of Oakland itself.
I will master, and share, the use of bus stop numbers/"next bus" technology in 2013!
I will ride the M bus 3 – 4 days a week instead of driving over the bridge. I can feel my blood pressure improving as I think about it!
As a teenager, I will give my seat up for someone who needs it more than me.
I will remember to use my earplugs and use transit time to meditate.
I will find a way to use AC Transit to get to nature!
I will make a sincere effort to purchase a monthly pass throughout the year. It certainly saves a great deal and spares you the inconvenience and embarrassment of running out of funds.
I will take my bike on an AC Transit bus!
I will help keep the bus clean by throwing away my trash.
I will always depart the bus through the rear doors so on-coming passengers can board faster.
I will be mindful of the rules for riding AC Transit buses and be compliant, courteous and respectful, including giving up my seat to the elderly, disabled, and women and small children when given the opportunity to do so.
Thanks to all those who shared their inspiring resolutions, and congratulations to the lucky winners.