New Gillig Buses Now on the Road
News Articles
03/28/2013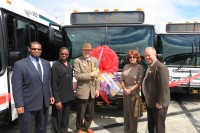 On March 28, AC Transit launched new 40-foot buses that are locally made and well-designed to promise greater reliability and a better ride for customers.
With a ribbon-cutting ceremony at its Seminary Avenue bus yard in Oakland, the agency made good on its "Buy America" policy by unveiling the first of 65 new buses engineered by the Gillig Corporation in Hayward. The launch marks the first step toward upgrading the AC Transit fleet of more than 600 buses by opting to buy as many as 300 American-made buses over the next two years to replace aging, less dependable vehicles.
"We need new buses and I think it is important to buy locally," said AC Transit Board President Greg Harper, who attended the ceremony along with other Board members, agency staff, and representatives from the Gillig Corporation and Titan Advertising. "These are just the first of the new buses we're getting. They are part of an overall plan to become more efficient. People are going to see better service from us."
Speaking of better service, the Gillig bus launch also kicks off the District's "A Better Ride" campaign of service and performance initiatives throughout the agency. Among them are initiatives to improve on-time performance and service reliability, institute a quality assurance program to maintain cleaner buses, and bring many internal efficiencies.
Gillig is the second largest producer of transit buses in North America and produces between 1,200 to 1,300 buses each year for many different customers, from Alaska to Florida. Most of the buses it builds are powered by the world's cleanest and most efficient diesel engines. Today's clean diesel engines are more fuel-efficient and emit up to 90-percent fewer exhaust emissions.
AC Transit's contract with Gillig provides dozens of local jobs, spurs local business, and helps stimulate the regional economy. But just as important is the end product: a state-of the-art, smooth-riding, low-maintenance, passenger- and environment-friendly vehicle.
To see more about the Gillig buses, see the Gillig bus page and view the Gillig promotional video on YouTube.
For more information about the District's "A Better Ride" campaign, visit the webpage A Better Ride.