Buses Shine: "Go A's"
News Articles
04/02/2013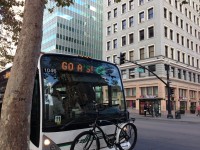 The head signs of  AC Transit buses are all aglow, flashing " Go A's"  as part of the promotional effort for the Oakland A's Spirit Week that is sweeping the East Bay.
Actually, the coaches have been radiating the electronic pep rally mantra for several weeks to show appreciation and support for Oakland's major league baseball franchise.
"It is a great baseball team and we realize it's an immeasurable asset to our community," said AC Transit General Manager David Armijo. "So, we are proud to help lead the parade of support for the Oakland A's– particularly considering that our buses provide easy access to all of their home games at the Coliseum."
AC Transit's fleet of 689 buses will remain lit with the Go A's head signs throughout the week.