Veteran Transit Planner Comes To AC Transit
News Articles
05/01/2013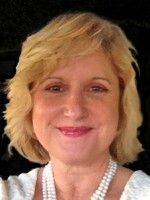 Veteran transit strategist Julie B. Eldridge has become AC Transit's new Transportation Planning Manager, responsible for the District's Short Range Transit Plan (SRTP) — the cornerstone for agency activities, particularly with respect to capital development and investments.
Eldridge is a member of the American Institute of Certified Planners and is a recognized national leader in transportation and land use project developments.  She has managed public outreach and environmental documents across the U.S. for more than 25 years, supervising dozens of employees and administerig projects with budgets in excess of $4 million.
"Julie, welcome to your new position as planning manager at AC Transit," said Dennis Butler, AC Transit's Chief Planning and Development Officer.  "I'm delighted for you to be here as we embark on exciting new activities."
Eldridge has worked for local governments and has been a consultant and/or project manager for a variety of federally funded transit studies including:
AC Transit BRT Small Starts and FEIS document
Fresno BRT Very Small Starts application
Fresno Streetcar Feasibility Study
Fresno Public Transportation Infrastructure Study (SB375)
Infrastructure planning for five transit corridors and Transit Overlay District ordinance, Charlotte, North Carolina
MARTA Program Management, Atlanta, Georgia
LRT Small Starts and DEIS/FEIS, Salt Lake City, Utah
As Transportation Planning Manager, Eldridge will represent AC Transit on planning issues with other public transit agencies and funding partners throughout the Bay Area.