AC Transit Announces Appointment of David Wolf as General Counsel
Press Releases
05/08/2013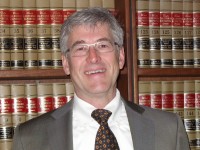 David A. Wolf has been appointed as AC Transit's new General Counsel by the agency's Board of Directors. Wolf, a practicing lawyer for more than 25 years, succeeds Kenneth C. Scheidig, who retired from the agency in December of 2010 and has been serving as Interim General Counsel since November of 2012.
Wolf, who joined AC Transit in December 2012, currently serves as the agency's labor and employment counsel.  He also manages and handles litigation and provides advice and counsel on a wide range of issues affecting the District, including pension reform, Fair Labor Standards Act wage and hour issues, the Brown Act, and Accountable Care Act implementation.
"In the twelve years I have been on the Board, I have not seen a greater amount and variety of legal issues come before the Board than in the last few months. Fortunately, our Interim General Counsel, Ken Scheidig, had the wisdom and foresight to hire David, who has greatly impressed the entire Board with both his acumen and his demeanor. We look forward to working with him," said Greg Harper, President of the Board of Directors.  "With the pension reform mandates from the State, labor and employment issues have dominated the legal matters coming before the Board, and with labor contract negotiations this year, that dominance will intensify. The Board felt that, in David, our General Counsel has great expertise in this most important area."
Wolf holds bachelor's degrees in Political Science and German Language from California Polytechnic State University – San Luis Obispo and California State University East Bay respectively, and is a graduate of the University of the Pacific McGeorge School of Law.  Wolf is also fluent in German and spent time studying abroad at Karis Ruprecht University in Heidelberg, Germany.
Prior to joining AC Transit's legal team, Wolf was an attorney for the Judicial Council of California, Administrative Office of the Courts (AOC) in San Francisco where he served as a senior labor relations negotiator and legal counsel providing advice to California Superior Courts and the AOC.  He has also held positions specializing in labor and employee relations with Providence Health System and Sutter Health.  Throughout his legal career, Wolf has demonstrated a track record of sound judgment, strong management and leadership ability.
Wolf noted even in his first few weeks with AC Transit that, "the work of the Office of the General Counsel is nonstop, varied, and never dull.  We have a great team here.  Running a successful transit agency is complex and challenging.  The new post allows me to use all my prior experience to continue providing sound legal advice and to carry on a tradition of great customer service."
Wolf is currently a member of the Bar Association of San Francisco and serves as Vice Chair of the association's Ethics Committee.   In his spare time, he serves as Board President and Chief Executive Officer of the Young People's Symphony Orchestra, a non-profit organization located in Berkeley.
About AC Transit
Located in Oakland, California, AC Transit is an innovative, modern bus system, owned by the people of the East Bay. With a proposed budget of $328 million for FY 2013-14, AC Transit serves nearly 200,000 riders daily and is one of the largest bus-only public transit agencies in the United States, serving over 61.2 million passengers a year throughout a 364-square mile region.
AC Transit's 1,852 employees, including 1,136 bus operators, are on a mission to provide safe, convenient, courteous, and reliable transit service. With connections to nine other public and private transit systems, including 21 BART stations, six Amtrak stations, and three ferry terminals, AC Transit provides a valuable service for commuters, school children, senior citizens and people with disabilities.
For more information, please go to www.actransit.org.