The New Flyers Are Here!
News Articles
08/12/2013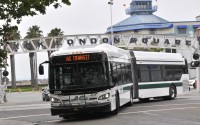 In early August, AC Transit launched the next iteration of "A Better Ride" by placing the first of the New Flyer 60' articulated buses into service on lines 40 (downtown Oakland to Bayfair BART) and 57 (Foothill Square to 40th and San Pablo). Designed to handle our heaviest passenger loads, the District will deploy 23 of these streamlined buses in August and September.
The New Flyer coaches are low-floor, seat 52 people (with additional room for standees), and are manufactured in the USA. They have better fuel mileage and decreased noise pollution compared to the buses they are replacing, and also come with air conditioning! Of course, they also boast our distinctive new green seats, which received great reviews on our Gillig buses. Look for our colorful purple-and-yellow A Better Ride ads on the New Flyers and in bus shelters along lines 40 and 57. Take a ride on the New Flyers, then send us an email to abetterride@actransit.org and tell us what you think.
The launch of these new buses, coupled with the March launch of our 40' Hayward-built Gilligs, and the continued implementation of service and performance-enhancing initiatives throughout the agency, help advance the District's goal of providing "a better ride" to our passengers!
Keep up with all the latest news by visiting:
• The New Flyer specs page
• The A Better Ride page
• Sign-up for eNews
• Facebook
• Twitter #abetterride
• Flickr
• YouTube