New Commuter Buses Launched
News Articles
11/07/2013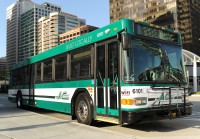 The bus commute to San Francisco is becoming even smoother with the addition of 54 comfortable commuter-style coaches—the first 10 of which began service on November 8.
The day before, passengers on an early morning Line E trip from Berkeley to San Francisco got a preview of the new coach on a celebratory inaugural run. They were joined by members of the AC Transit Board and Executive Staff, including Board President Greg Harper and General Manager David Armijo. By all accounts, the lively conversation and new-bus experience were enjoyed by all.
"These are great-looking buses and they offer a great way to get to work,'' said Harper. "They are precisely what we hoped they would be. They are ideal for the transbay commute."
The distinctive, transbay-branded buses feature high-back cushioned seats, individual reading lamps, free wi-fi, and overhead racks–similar to the existing fleet of MCI over-the-road coaches. Importantly, though, the new buses are low-floor and have both front and back doors for efficient exiting.
The timing couldn't be better for the new buses, with AC Transit's transbay service growing in popularity. This year alone, ridership has seen about a 20-percent increase. Often referred to by riders as the "best kept secret," the service was discovered by new thousands of commuters when two BART labor strikes led them to check out their East Bay-to-San Francisco transit options. With advantages such as being able to walk to a stop, getting a seat (most of the time!), and the terrific views from the Bay Bridge, taking the bus to The City makes for an ideal commute.
These buses–built by Gillig Corporation right here in Hayward–are the third in a series of coaches acquired as part of the agency's "A Better Ride" campaign and its Buy American Goods policy. In March, 65 low-floor, 40-foot Gillig buses were put into service. In July, 23 New Flyer 60-foot, articulated buses were added to the fleet.
For more information about the newest buses, visit New Bus, New Bridge. To take a look at our transbay offerings, visit our Transbay Service pages. And to find out more about the District's "A Better Ride" campaign, head to the A Better Ride page.