Turning Over a New Leaf? Try Taking the Bus to San Francisco!
News Articles
12/02/2013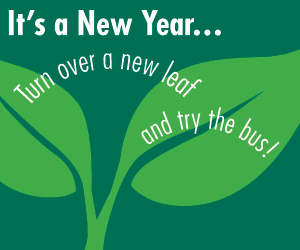 It's healthy to try new things.
You probably already know that taking transit is better for the environment — fewer cars on our roads mean less pollution (fewer harmful CO2 emissions), and that translates into cleaner air. By taking the bus into San Francisco – and around the East Bay — not only are you doing good for the planet, you're also saving yourself the stress of driving and paying for parking. Relax on the bus with a book, some paperwork, or your mobile device instead. Let us do the driving!
It's pretty simple to get started (or re-started).
It's easier than you might think to use any of our bus lines, including over 30 transbay lines into San Francisco! This handy guide will help you get going, with links to information you might wonder about, such as finding your bus line or a nearby stop, paying your fare, or connecting to other transit agencies.
It's a new year. Time to turn over a new leaf, and try taking the bus!