Measure BB on the November 2014 Ballot
Published October 2014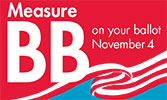 What is Measure BB?
Measure BB is a half-cent sales tax that will provide funds for a variety of transportation projects and programs in Alameda County over the next 30 years.
Why is Measure BB on the ballot?
Over the next 30 years, the population of Alameda County is estimated to grow by almost 30% and the senior population will double. This means more demand on our streets, highways, and transit.
What will Measure BB funds be used for?
Measure BB will provide funding for such things as maintaining and expanding bus service, reduce traffic congestion, improve air quality, improve transit connections to jobs and schools, and create good local jobs. Measure BB will also provide funding to expand BART, ferry and commuter Rail, fund infrastructure improvements of our roads and highways, and expand bike and pedestrian paths throughout Alameda County. This funding will support the transportation needs of Alameda County's growing population while decreasing congestion and pollution.
How much would AC Transit get from Measure BB?
AC Transit currently receives $19.5 million per year for operations, maintenance and safety and $4.6 million per year for East Bay Paratransit services from Alameda County's current half-cent transportation tax. If Measure BB passes, AC Transit will receive approximately $41 million per year in direct funding for bus operations, maintenance and safety, and approximately $9.9 million per year for East Bay Paratransit for seniors and people with disabilities. Measure BB could also fund capital improvements on AC Transit routes.
Does AC Transit get money from Measure B now?
Yes, about $24 million a year. This money helps pay for the 100+ lines that provide approximately 200,000 trips per day.
How much will Measure BB cost?
This measure adds a half-cent sales tax to the already existing Alameda County Measure B half-cent transportation tax. If passed, the proposed measure will expire on April 1, 2045.
Who can vote on Measure BB?
All registered voters in Alameda County are eligible to vote on Measure BB, including the cities and unincorporated areas where AC Transit currently provides bus service: Alameda, Albany, Berkeley, Emeryville, Fremont, Hayward, Newark, Oakland, Piedmont, San Leandro, and the unincorporated areas of Alameda County of Ashland, Castro Valley, Cherryland, Fairview, and San Lorenzo.
What will AC Transit do if Measure BB does not pass?
Without new funds, AC Transit will not be able to meet the transportation needs of our growing population, likely resulting in increased congestion and pollution.
Who benefits from AC Transit bus service?
AC Transit is a public transit agency that provides bus service to almost 200,000 average daily weekday riders, including 34,000 school children, with more than 100 bus lines. Through East Bay Paratransit services, a partnership with BART, AC Transit also provides over 716,000 Paratransit trips to people with disabilities each year. AC Transit benefits everyone, riders who choose to leave their cars at home, riders who do not currently own cars and non-riders alike. AC Transit's service helps keep tens of thousands of cars off the road every day, reducing greenhouse gas emissions and relieving congestion from our roads.
Will taxes go up if Measure BB passes?
Yes. Measure BB would increase the sales tax in Alameda County by a half-cent.
How can I be sure Measure BB funds will be spent properly?
An independent watchdog committee will be established to oversee annual audits and will report to the taxpayers on expenditures and performance measures. Strict limits on administrative expenses charged to these funds will help to ensure that these funds are spent within the communities identified above and for the purpose cited in the measure.
Where can I get more information?
Visit the Alameda County Transportation Commission's website at www.alamedactc.org.
Voter Information:
Last day to register to vote in this election: October 20, 2014
Last day to request an absentee ballot: October 28, 2014
Election Day: Tuesday, November 4, 2014
Voting hours: 7 a.m. to 8 p.m.
To request an absentee/vote by mail ballot, call:
Alameda County Registrar of Voters: (510) 267-8683
For your polling Place:
What is in the new Measure BB as a whole?
$7.785 billion in in transportation improvements with funds going to every city, unincorporated area and public transit agency in Alameda County.
Bus, BART, Ferry and Commuter Rail for Reliable, Safe and Fast Services $2.768 billion
BART expansion and maintenance, bus operations, maintenance and Rapid Bus Projects, commuter rail improvements, and Ferry services in Alameda County
Affordable Transit for Youth, Seniors and People with Disabilities $964 million
Affordable youth transit to school, transit innovation, and affordable transit for seniors and people with disabilities
Traffic Relief on Streets and Highways $3.025 billion
For City and County Streets. Highway safety and efficiency improvements
Clean Transportation, Community Development, Technology and Innovation $1.028 billion
For bicycle and pedestrian path and safety projects, educational programs; community development projects to increase access to jobs and education; and technology and innovation
Total Investments, Year 2015 to 2045 – $7.785 Billion