More Service in Fremont, Newark, Hayward & Union City!
News Articles
05/23/2014
A few months ago, we made significant service improvements to bus service in Fremont, Newark, Hayward, and Union City. A new bus line, Line 200, was added, offering service every 30 minutes. On other bus lines, we improved service with more frequent trips and more direct service.
More service, more often.
Pacific Research Center - Direct service on Line 200; a great way to get to/from Union City Bart! 

Newark Senior Center, Gateway Plaza, and (on weekends) Silliman Center - Direct service on Line 200

LAM Research Park – Direct service on Line 215 to Northport Loop every 45 minutes, serving Fremont BART
Pacific Commons Mall – Late-night weekday service on Line 212 
Lake Elizabeth Recreation Center and the Fremont Library – Additional direct service on Lines 212 and 215
Union City BART and Fremont BART- More-frequent bus service on Line 99 (every 20 minutes on weekdays) serving the Mission Boulevard "commuter corridor" in Hayward
Hop on!
It's easy to get started, or to simply try bus lines in your area that you haven't hopped on yet! Check out the area map, and below it, links to schedule information and other details. (Descriptions of all AC Transit bus lines are found here.)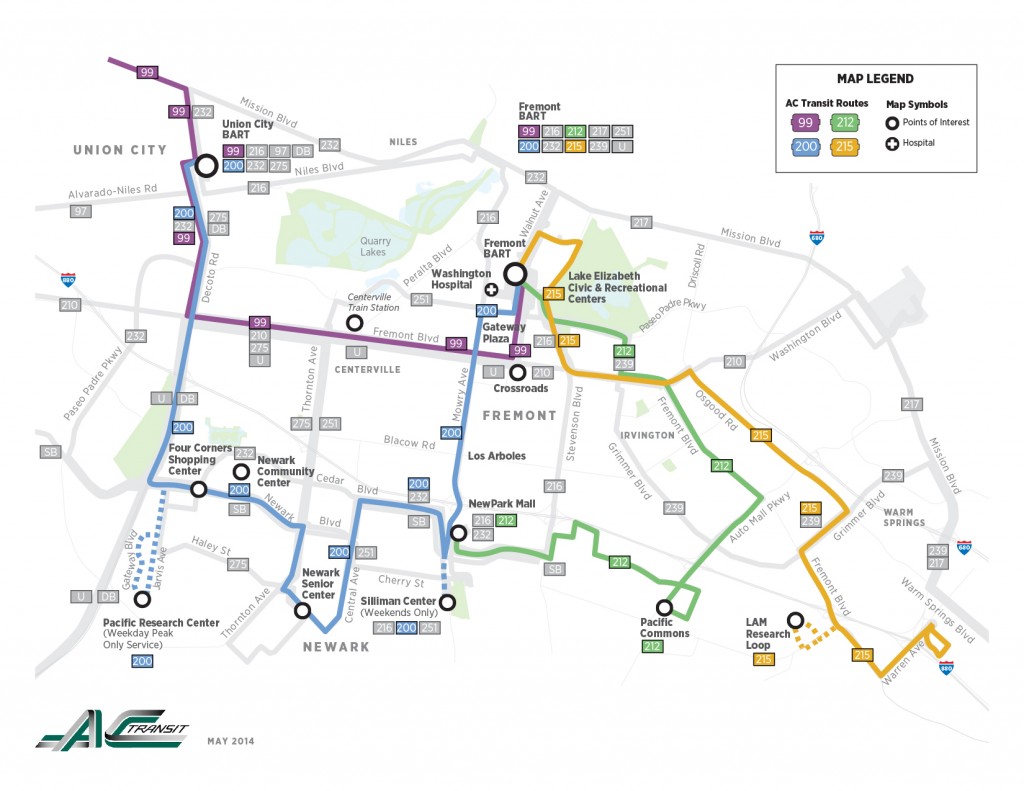 Line 200; Line 212; Line 215; Line 216; Line 217; Line 232; Line 239; Line 251; Line 99
For trip-planning assistance, we offer several options including help by phone or online. On July 1, a new bus fare policy will take effect, designed to speed boarding, and offer greater convenience and value. Find fare payment news & details here.
Now in the Fremont/Newark area, there's more service, more often. Hop on!