December Employees of the Month
News Articles
12/01/2014
It takes a lot of hard work and dedication to keep AC Transit buses on the road and running smoothly. Each month, the District honors the service of those drivers and mechanics who contribute directly to this effort by awarding seven "Employees of the Month" from our Maintenance and Transportation divisions.
Candidates are nominated by supervisors at each of AC Transit's three bus divisions in Emeryville, East Oakland, and Hayward, as well as our Central Maintenance Facility. Two winners from each of division (and one from the Central Maintenance Facility) are selected by the division Superintendent. Each winner receives a gift certificate to a local restaurant.
We are pleased to announce the seven "Employees of the Month" winners for December 2014.
CENTRAL MAINTENANCE FACILITY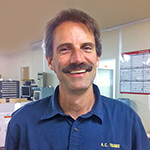 Dale Hazelwood Brewer
Senior Electronics Technician
Mr. Brewer consistently supports all aspects of the Electronics department's goals with skill and a great attitude. He has an impeccable attendance record, and can be counted on to tackle a job at a moment's notice. Dale's work has been an integral part of the success of AC Transit's video system development, since its inception in 2009.
EMERYVILLE DIVISION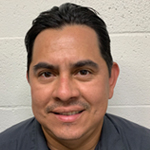 Jose Guillen
Service Employee
Mr. Guillen is an asset to the Service Employee crew at the Emeryville bus yard. Both the quality, and the fast pace, of Jose's work stand out as an example of a work ethic we can all aspire to.
Bus Operator, Transportation
Ms. Colocho has a personality that glows like the sun and the stars! She is at work every day, is always a pleasure to talk to, and her passengers often compliment her. AC Transit staff is proud of Gloria and say it's an honor to work with her.
EAST OAKLAND DIVISION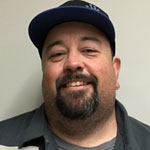 Manny Amaral
Upholsterer A
Mr. Amaral, an Upholster at the East Oakland bus yard, is a hard workers who wears many hats. Manny's greatest attribute is that he proactively inspects the bus fleet for defects and makes the needed repairs before a bus has be taken out of service. Manny is also a dependable self-starter, needing little direction. He works well with others and is always willing to give a helping hand to his Body Shop coworkers.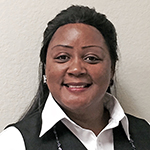 Lena James
Dispatcher
Ms. James,  a veteran bus operator, is now a Dispatcher. Lena is  polite to internal customers, and conscientiously performs her duties. She's always respectful of manager, gets along well with coworkers, and has an excellent work ethic. Staff enjoy working with Lena, and congratulate her on this honor!
HAYWARD DIVISION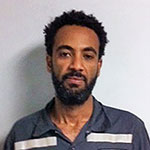 Sam Tesfamariam
Journey-Level Mechanic, Maintenance
Mr. Tesfamariam is a talented, motivated worker. He works hard, and completes each job as assigned. Sam has an excellent attitude, and always shares his knowledge with coworkers.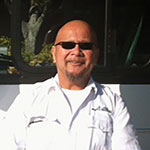 Jesse De la Cruz
Bus Operator, Transportation
Operator De la Cruz is a role model for his peers! He has received a 30 year safe driving award, for being proactive and recognizing potential problems on the road. Jesse looks out for his passengers. The staff at the Hayward bus yard is proud to call Jesse De la Cruz an employee of the month.