Avoid Driving Through Holiday Traffic — Use Clipper on AC Transit
News Articles
12/12/2014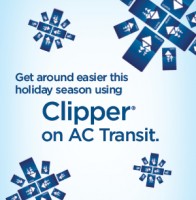 With the holidays in full swing, people are once again hurrying through the streets, shopping for gifts, and preparing for gatherings. Avoid the stress of navigating congested roads and enjoy the festivities by using Clipper® on AC Transit!
Whether you're planning to see holiday lights, dine out, catch a performance, or mingle with family and friends, riding AC Transit is one of the best options for seeing the sights and sounds of the season.
And using Clipper makes traveling on AC Transit even easier. With Clipper, you don't need to fumble around to try to find cash. You can get on buses faster by simply tagging your card. New to Clipper? Get a Clipper card for just $3. Adding value is also easy. You can go online, call: 877.878.8883, or visit many convenient retail locations. There's also an option to set up Autoload to make sure you always have value on your card. Clipper waives the $3 card fee if you set up Autoload when you order your card online. For more information, check out clippercard.com or call 877.878.8883.
Don't miss out on holiday fun! Like us on Facebook and follow us on Twitter to find out about upcoming local events and activities during the season. Get there easier using AC Transit and your Clipper card.