AC Transit Offers Free Rides on "Holiday Bus"
News Articles
12/12/2014
Also, Accepting Food Donations at AC Transit Main Office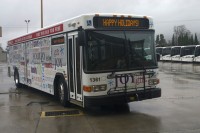 In the spirit of sharing, starting on Sunday December 14, we are once again celebrating the holiday season by offering passengers a free ride on our cheerfully decorated "Holiday Bus".
Every year, AC Transit transforms one bus with brightly colored decorations depicting the joy and merriment of the season. Each day, the bus runs along a different route, giving passengers throughout our service area a chance to see, and ride, the festive-looking bus.
Again this year, as a thank-you to our customers, the special bus's fare box will be covered during the holidays. That means anyone who boards it from Sunday, December 14, 2014 through Saturday, January 3, 2015 will get to ride for free!
"The Holiday Bus is a token of gratitude to our riders," said AC Transit General Manager David Armijo. "It's a small thing but it's a way for us to contribute in this season of sharing, and we intend to do so in hopes of making the season a little brighter for anyone who boards the holiday bus."
Also, AC Transit is collecting food for the Alameda County Food Bank at its general offices, from December 10 through January 15. In our main lobby, at 1600 Franklin Street in Oakland, a festive little mini-bus not only brightens the space but also has donation containers on its seats. Everyone is welcome to help our employees "fill the bus"!
Feel free to stop by AC Transit and place one or more non-perishable food items inside our mini-bus. Through donations, the Food Bank will feed thousands of Alameda County residents this holiday season.