Oakland a Record-Setting City for Transit Ridership, says CNN
News Articles
12/23/2014
Oakland is mentioned in a recent CNN article "Five signs America is falling in love with public transit." According to CNN, this past July through September, total U.S. trips on commuter rail, subways, buses, streetcars and trolleys increased by 1.81% over 2013.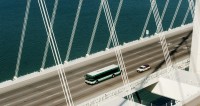 Third-quarter figures released in late December by the American Public Transportation Association show rising transit ridership nationwide, for 12 of the past 15 quarters.
And this year, some cities set records for transit use –including Oakland.