2015 Bus Pilot Gets Under Way
News Articles
01/15/2015
From February 23 through March 15, AC Transit will test an 80-seat double decker bus in service. As our ridership continues to grow, we're looking for ways to efficiently accommodate more passengers. So we're testing this bus in service to see if double deckers would be a practical, welcome addition to our fleet. This same bus, built by Alexander Dennis, operates in other US cities, including Seattle, Davis, and Las Vegas.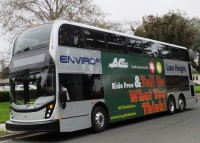 Following the test period, input from riders, bus operators, and maintenance staff will be compiled and reviewed. Staff will then report to the AC Transit Board of Directors with findings and recommendations. If a decision is made to purchase double decker buses, they could be in service as early as 2017.
The bus will operate selected trips on several transbay and local lines, including lines FS, J, L, NX, NX1, NX2, U, and 51B. It will also be on display at AC Transit's General Offices in downtown Oakland and mid-day at the Transbay Temporary Terminal in San Francisco. (See the link below for the full schedule.) Ambassadors will hand out surveys. No fares will be charged during the test period.
More information:
Service schedule
Frequently Asked Questions (FAQ)
Bus specifications
Press release
For questions and comments, email customerrelations@actransit.org or call (510) 891-4777. For media inquiries call (510) 891-4745.