Chris Peeples Elected President of AC Transit Board
News Articles
01/20/2015
Elsa Ortiz Becomes VP
The AC Transit Board of Directors has elected former attorney and longtime transit advocate H.E. Christian Peeples to preside as president of the seven-member panel. Peeples is known for his sharp analysis and vast knowledge about transit issues.
Director Peeples is serving his sixth consecutive term on the AC Transit Board of Directors, having been appointed to the post in November 1997 to fill one of the District's two At L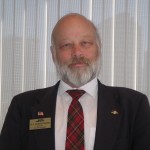 arge positions, and then winning re-election ever since.
Director Peeples is a graduate of Crown College, University of California at Santa Cruz, and Hastings College of the Law.  He is a devout advocate for public transit–and AC Transit bus service in particular–actively involved in the AC Bus Riders Union, Alliance for AC Transit, Regional Alliance for Transit, Alliance for Sensible Transit, Coalition for A One Stop Terminal, and many other transit groups.
Director Peeples is engaged in local community affairs, having served on the Oakland Ethics Commission, and other community and political bodies.  Also, he is active in the meetings of the Transportation Research Board (TRB), the branch of the National Academies involved in transportation research, and the American Public Transportation Association (APTA), transit's national association. He is a strong supporter of AC Transit's zero emission fuel cell bus program.
Meanwhile, Director Elsa Ortiz has been elected Vice-President of the Board, serving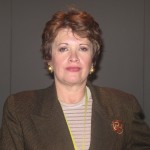 a third term as trustee after first being elected in November 2006.  She represents the city of Alameda and portions of Oakland and San Leandro.
Until her retirement in December 2014, Ms. Ortiz worked as an attorney and policy consultant  to former Presidents of the State Senate Don Perata and Darrell Steinberg on issues affecting Indian Nations. She previously was Chief of Staff and Special Assistant to former California State Treasurer Bill Lockyer during his tenures as State Senator and Attorney General.
Director Ortiz has a Bachelor's Degree with honors and teaching credentials from the University of California at Berkeley and her Juris Doctor from John F. Kennedy College of Law.