Transit Driver Appreciation Day is Wednesday, March 18
News Articles
03/12/2015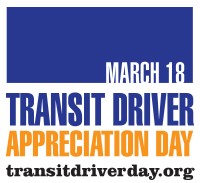 To help honor our operators, AC Transit encourages you to thank your bus driver on March 18, Transit Driver Appreciation Day!  
We also invite you to show your virtual support.
Ideas:
Take a photo of — or a selfie with — your driver and tweet it to @rideact #TDAD. We'll retweet your photos, and post a few of them on Facebook(facebook.com/rideact).  If you know the driver's name, include that too!
Print thank you cards provided at www.transitdriverday.org, add a personal message and/or your name and hand it to your bus operator on Wednesday.
Bring a wrapped treat to your driver on Wednesday.
Simply say a hearty "Thank you" when getting off the bus.
Transit Driver Appreciation Day, started in 2009 by bus passengers in Seattle, is a national event that brings attention to the challenging job bus drivers do every day. Being a bus operator can be a challenging job!
A few things you may not know about our bus operators!
AC Transit's New Bus Operators (NBOs) undergo a nine-week training program that entails classroom and behind-the-wheel training.  Training topics include ADA (Americans with Disabilities Act) regulations, bus routes, customer service, safety, and defensive driving.
The average time a new driver spends behind the wheel before he or she starts driving a bus route:  45 hours.
In the last four years,  AC Transit has trained and qualified 445 new bus drivers.
AC Transit bus operators have won the American Public Transportation Association's International Bus Roadeo four times, also achieving multiple "Top Ten" placements.
Please say thanks to your bus driver on March 18.