AC Transit, BART Celebrate ADA 25th Anniversary, Open New EBPC Office
Press Releases
09/16/2015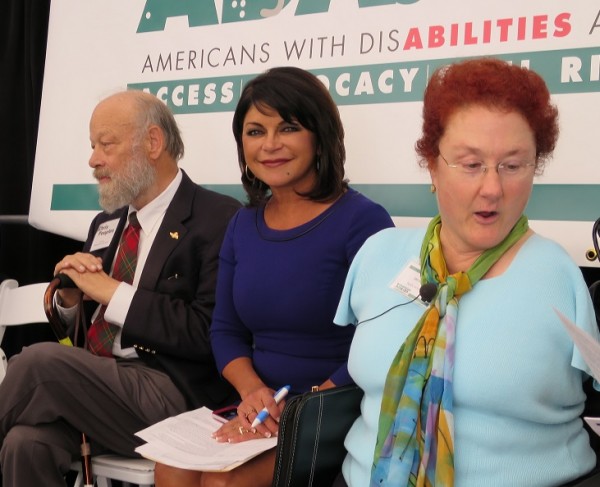 AC Transit and BART hosted a celebration of the 25th anniversary of the Americans with Disabilities Act (ADA) September 16, coinciding with the grand opening of the new East Bay Paratransit office in Uptown Oakland.
"The world changed for people with disabilities when the Americans with Disabilities Act was signed 25 years ago," said AC Transit Board President Chris Peeples. "Our goal is to make the East Bay as accessible for our disabled riders as it is for everyone else. The partnership we have with BART to provide paratransit services is an important piece of our effort and we thank them for their participation. We will continue to make accessibility a priority at AC Transit."
"The Americans with Disabilities Act is an incredible, inspiring work of legislation," said BART Director Robert Raburn. "Its legacy is a nation with fewer barriers, and it has been a pleasure working with AC Transit and the East Bay Paratransit Consortium to ensure access to public transportation continues to be a cherished civil right here in the Bay Area."
The ADA is one of the cornerstone legislative achievements of the 20th century, an unprecedented leap forward in expanding accessibility as a civil right for people with disabilities.  Since the ADA's signing in 1990, AC Transit and BART have worked to ensure disabled residents are able to enjoy the many benefits of public transportation. The two agencies joined together in 1994 to form the East Bay Paratransit Consortium (EBPC), which provides services in their overlapping areas.
Learn more about AC Transit's efforts to make transit accessible to all. Included is a short video featuring members of the AC Transit Accessibility Advisory Committee, who share their personal testimonials as to how the legislation has benefited them. BART will be promoting the ADA and East Bay Paratransit on train car cards over the next few months to highlight options for disabled passengers and raise awareness of EBPC.
Wednesday's celebration included a tour of the new facilities, an explanation of the services EBPC provides, and speeches highlighting the critical importance of disabled access 25 years after the ADA's signing.  Jan Garrett, Program Manager at Pacific ADA Center and former Executive Director of the Center for Independent Living, gave the keynote speech alongside other honorable speakers such as City of Oakland Policy Director for Transportation and Infrastructure Matt Nichols, and both AC Transit and BART Board members.
Local city council members, mayors, school board members, state officials, federal officials and advocates for the disabled and organizations also attended.
Photo caption: AC Transit and BART celebrated the 25th anniversary of the ADA and the opening of the new East Bay Paratransit Consortium office in Uptown Oakland today. Pictured from left: AC Transit Board President Chris Peeples; Mistress of Ceremonies Roberta Gonzales, CBS 5 TV and KCBS Radio; and Keynote Speaker Jan Garrett, program manager, Pacific ADA Center wait for the program to begin.