November Employees of the Month
News Articles
11/01/2015
It takes a lot of hard work and dedication to keep AC Transit buses on the road and running smoothly. Each month, the District honors the service of those drivers and mechanics who contribute directly to this effort by awarding seven "Employees of the Month"  from our Maintenance and Transportation divisions. Our candidates are nominated by supervisors at each of AC Transit's three bus divisions in Emeryville, East Oakland, Hayward, and our Central Maintenance Facility. Two winners from each of division (and one from the Central Maintenance Facility) are selected by the Superintendent of the division. Each winner receives a gift certificate to a local restaurant.
We are pleased to announce the seven "Employees of the Month" winners for November 2015.
CENTRAL MAINTENANCE FACILITY
Sr. Body Mechanic
Mr. Turner supports all aspects of the CMF Body Shop, including repairs on both revenue and non-revenue vehicles. Gary has a great attitude, and can always be counted on to take on any job.
EMERYVILLE DIVISION
Journey-Level Mechanic
Mr. Singh is helping the Emeryville division maintain its high-level standards by keeping coaches on the road. He's a great Mechanic who is always willing to help in any way possible. Lakhmir can be counted on to get the job done and is a true professional.
Bus Operator 
Mr. Lee takes his job very seriously. He comes to work every day and operates his bus in a safe and professional manner.  Anderson embodies AC Transit's mission statement: "Connecting our communities with safe, reliable, sustainable service… we'll get you there." That is the reason that Operator Lee is our Employee of the Month.
EAST OAKLAND DIVISION
Journey-Level Mechanic
Mr. Fulton has only been with the district for a short time, but has displayed a wealth of knowledge and the willingness to assist his fellow coworkers whenever the situation arises.  Robert has become invaluable to the effort of keeping our coaches on the road.
Jerome T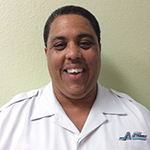 illman
Bus Operator
 Mr. Tillman has a wonderful attitude with his passengers, co-workers, and staff.  He consistently assists our customers in arriving at their destination in a caring environment with ease and comfort.  His work ethic, customer service, and accident preventability record are second to none.  They support the high standards of professionalism that he engages in every day.  Thank you, Jerome Tillman!
HAYWARD DIVISION
Journey-Level Mechanic
Mr. Burr is a team leader who leads by example. He does so by completing his assignments quickly and efficiently and is the relief foreman on weekends. He consistently takes the initiative in working towards achieving District goals, such as reducing road calls and preventative maintenance campaigns. Sean is self-motivated, a self-starter, and motivates those around him.
Bus Operator
Ms. Dixon has a very friendly attitude when assisting her passengers. She is always willing to go out of her way to give directions to seniors and ADA passengers. Reisha has received several commendations from her passengers stating she is punctual and polite. Operator Dixon works well with her co-workers and she wears her uniform as a true professional. We are proud of her!