Tell AC Transit How You Plan Your Trips
News Articles
11/12/2015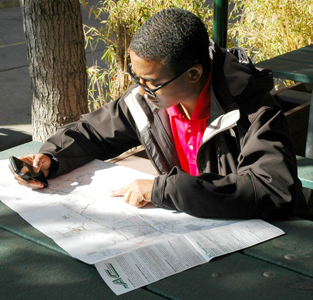 AC Transit wants you, our riders, to tell us how you plan your transit trips. Our maps were designed more than 10 years ago, and were mainly intended for printed use. Technology has evolved, and smartphones are the primary planning tool for many. How do riders use maps and timetables today? AC Transit has partnered with transit planning firm Jarrett Walker & Associates to study these questions.
This is where you come in. AC Transit invites our riders and riders of other transit systems to take a brief online survey to help us answer the question, "How do you plan your transit trips?" Your responses will help us map the future and create new, more useful tools for our riders.
"We want to make catching and riding the bus easy and fun," said Michele Joseph, Marketing and Communications Director at AC Transit. "We value the opinions of our riders and know that with their feedback, we can make the system even better."
Survey questions include whether riders use smartphone apps to plan their trips and questions about the AC Transit system map. Riders who respond to the survey will be given a chance to win one of 30 Clipper Cards pre-loaded with $50.
¡Díganos cómo planifica sus viajes!