Free Holiday Bus Now Picking Up AC Transit Passengers
News Articles
12/14/2015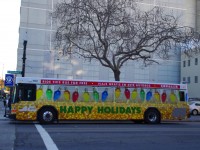 East Bay travelers have a reason to be merry this season. AC Transit's Holiday Bus is once again making the streets brighter by providing free rides to passengers who board the bus.
"We appreciate our customers year round," said AC Transit General Manager Michael Hursh. "A free ride on the Holiday Bus is just one way for us to show our thanks. We hope everyone enjoys the spirit of the season."
The festively decorated bus is offering free rides along different routes now until January 3. The only required fare is a cheerful greeting to the operator and fellow passengers.
Also in the spirit of giving, AC Transit is collecting non-perishable food for the Alameda County Food Bank at the District's general offices through January 7. Items most needed by the food bank include canned meats and fish; pasta and sauces; low-salt soups, stews and chili; beans and rice; peanut butter; low-sugar cereal and oatmeal. Food in glass jars cannot be accepted.
Donations may be brought to 1600 Franklin Street in Oakland, where a mini-Holiday Bus is on display to store contributions from AC Transit employees and the community.