2016 Holiday Bus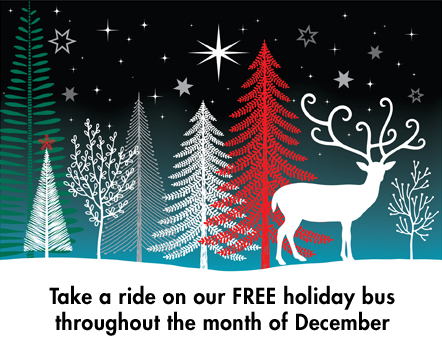 As we enter the festive holiday season, AC Transit wishes you peace and good cheer. Join us in celebrating the season: ride free on AC Transit's Holiday Bus in the month of December. The holiday-themed and wrapped vehicle will offer free rides, 2017 calendars, and seasonal cheer to passengers on various routes all over the AC Transit service area through December 31.
"Just over 172,000 riders chose AC Transit to get to friends, family, work, school, even the places we play here in the East Bay during 2016," said Michael Hursh, AC Transit's General Manager.
The holiday bus is a long-standing and enjoyable AC Transit tradition, dating back to the 1960′s. We want see and hear about your ride aboard the 2016 Holiday Bus.
Snap a photo onboard the bus or allow the festive bus wrapping to serve as your backdrop.
Post your pic and tag @rideact on social media with the hashtag #actjoy for your chance to win a limited edition AC Transit T-shirt by Oaklandish.
The first 10 riders who tag us in a 2016 Holiday Bus photo will be the winners of these stylish T-shirts.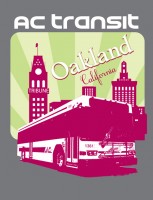 The timestamp on your post will be used to determine the winners. Winners will be notified via social media to arrange pickup of your shirt. Please, only one photo per person or account.
It's the most wonderful time of the year!
Happy Holidays from AC Transit