Request for Qualifications: Construction Management Services Consultant
News Articles
05/25/2016
AC Transit is issuing a Bus Rapid Transit (BRT) Construction Management Request for Qualifications (RFQ).
It is expected that the successful Construction Management (CM) Services Consultant will deliver the construction of the BRT project by ensuring all designs and improvements are constructed in accordance with the approved Plans, Specifications and Permits.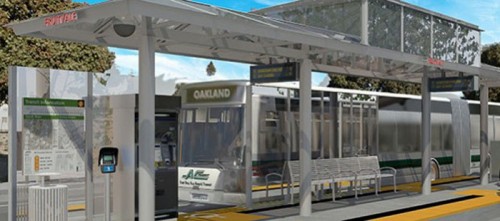 The AC Transit's (District) East Bay Bus Rapid Transit (BRT) service will operate on a 9.5 mile corridor between the San Leandro BART Station and downtown Oakland through East 14th Street, International Blvd., E 12th Street, 11th and 12th Streets and Broadway in City of Oakland. The BRT is a transportation system which will provide rail-like experience through improvements to existing infrastructure, vehicles and scheduling. As part of this project 46 platforms will be constructed, underground utilities will be relocated, corridor lighting will be improved, pedestrian crossings will be enhanced, the Transit Center will be modernized, some streets will be rehabbed and paved from curb to curb, curb ramps will be upgraded, new traffic signals will be installed, existing signal will be modified, traffic signals will be interconnected with fiber optic network and Transit Signal Priority (TSP) will be instituted.
The construction contract has been awarded to O.C. Jones & Sons Inc. who has been issued a Limited Notice to Proceed (LNTP). The full NTP is set to be issued in mid-July of this year with heavy construction anticipated to begin in September. The successful CM Consultant will be expected to provide 21 months of CM services beginning on August 1, of 2016.
Proposed Schedule for this RFQ is as follows:
May 26 – Advertise RFQ
June 9th – Pre-Bid Conference (Location: 1600 Franklin Street)
June 30 – Receive RFQ Submittals
July 8 – Complete Review of Qualifications and Rank
July 12 – Oral Presentation (If Required)
July 15 – Review Cost Proposal and Negotiate with most highly ranked team
July 27 – Request Contract award
July 29 – Execute Contract
Aug 1 -Issue NTP
Click here to access the documents listed below:

OC Jones Conformed Contract
Current Schedule
All CDRLS the CM will be responsible for reviewing and managing
100% Design Drawings and Specifications
Construction Management Plan
Quality Assurance Plan and other pertinent documentation
Interested parties please contact:
Jon Medwin
Director of Procurement and Materials
T: 510-891-5474
E: jmedwin@actransit.org put "RFQ: CM" in the subject line.