August Employees of the Month
News Articles
08/10/2016
It takes a lot of hard work and dedication to keep AC Transit buses on the road and running smoothly. Each month, the District honors the service of those drivers and mechanics who contribute directly to this effort by awarding "Employee of the Month" honors from our Maintenance and Transportation divisions. Our candidates are nominated by supervisors at each of AC Transit's three bus divisions in Emeryville, East Oakland, Hayward, and our Central Maintenance Facility. Winners from each of division (and one from the Central Maintenance Facility) are selected by the Superintendent of the division. Each winner receives a gift certificate to a local restaurant.
We are pleased to announce the seven "Employees of the Month" winners for August 2016.
CENTRAL MAINTENANCE FACILITY
Zwei Pierson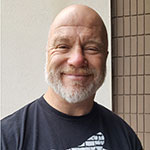 Parts Clerk
Mr. Zwei Pierson continues to demonstrate a positive attitude toward his work responsibilities and shows a great deal of respect to his co-workers. His commitment of improving the quality of his work performance in relation to his picking accuracy and attendance has greatly improved. He has shown willingness to exercise responsibilities beyond his regular job assignment, broadening his scope as a Parts Clerk by taking more initiative and offering suggestions and solutions to challenges that develops. Zwei Pierson has been consistent with his work performance and with time has developed into a more efficient and respected individual.

EMERYVILLE DIVISION
Ken Bradley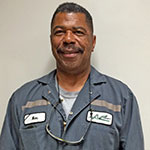 Senior Body Mechanic
Ken is always giving his best work effort for the District and continues to do so by helping others in any way he can. His attention to details and organizational skills, helps all of us to achieve high scores for overall body conditions and timely completion of special projects. He has a great personality, well like, and greatly appreciated here at D2. Thank you Ken for all that you do.
Brenda Mills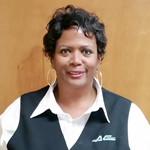 Bus Operator
Ms. Mills is a professional operator that knows what it means to treat her passengers with the very best customer service. She has had an excellent attendance record and seems to be able to stay calm, cool and collected in any situation. And, she is always smiling!

EAST OAKLAND DIVISION
Damian Ortiz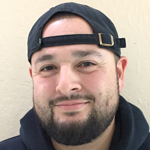 Electrician
Damian provides outstanding service to the division on a regular basis. He takes on and completes his work assignments with minimal supervision while also keeping management updated on project progression and/or when there are issues that cannot be quickly addressed. Damian is also willing to take on additional work and regularly helps out his co-workers at both D4 and other divisions.
Brian Gilmer
Dispatcher
Brian's willingness to go the extra mile and assist managers as well as his fellow co-workers makes him a great team player. Although he has been with the District over 35 years, he doesn't act entitled. His working relationship with D4's operators, always looking out for others, and his positive attitude makes us proud to nominate Brian as the Employee of the Month. Thank you Brian for your outstanding service.
HAYWARD DIVISION
Kimberly Evans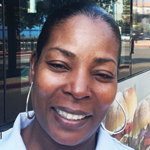 Bus Operator
Ms. Evans is a low-profile operator. She comes to work and does her job. Kimberly can often be found in the Gilley Room, spreading the good news about AC Transit. You rarely hear her name come up when there is a dispute or misunderstanding. She is professional and has a very positive attitude. Kimberly can always be found on her route day in, and day out, doing what she does best…serving the public. She is reliable, dependable, and (best of all) her excellent safety record speaks for itself! The staff at D6 appreciates having her as a representative for our Division.

Elizabeth Randle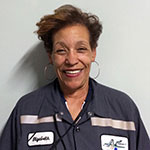 Service Employee
Ms. Elizabeth Randle has proven on numerous occasions that she goes above and beyond her daily duties to meet the needs of the District. Ms. Elizabeth has an extremely good attitude and never complains when asked to do more than her share of work. She also carries herself in a professional manner. Thank you Elizabeth for all that you do here at the District.