Thank You, East Bay Voters
News Articles
11/23/2016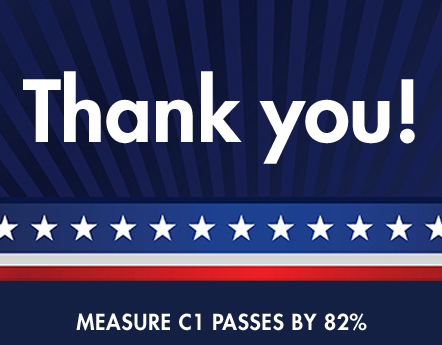 On Tuesday, November 8, 2016, East Bay voters renewed Measure C1 by 82%. AC Transit sincerely appreciates the community's continued commitment to ensuring that residents benefit from a reliable public bus system that increases personal mobility and freedom, reduces congestion and protects the environment.
Thank you for your support!


ABOUT MEASURE C1
Measure C1 was AC Transit's parcel tax renewal on the November 2016 General Election ballot. Voters overwhelmingly approved the measure, which extended an existing $8 per month parcel tax for another 20 years. The $30 million per year that the parcel tax generates will be used to support basic bus operations and maintenance.
Measure C1 provides the funds needed to meet these goals. An independent five-member citizen oversight committee will continue to oversee audits to assure that these funds are spent for the purposes cited in Measure C1.
---
El martes 8 de noviembre de 2016, los votantes de East Bay renovaron la Medida C1 con un 82%. AC Transit aprecia sinceramente el compromiso continuado de la comunidad para asegurar que los residentes se benefician de un sistema público de autobuses confiable que incrementa la movilidad y libertad personal, reduce la congestión de tráfico y protege al medio ambiente.
¡Gracias por su apoyo!
ACERCA DE LA MEDIDA C1
La Medida C1 era la renovación del impuesto sobre las parcelas de AC Transit en la balota de las Elecciones Generales de noviembre de 2016. Los votantes aprobaron la medida de manera abrumadora, lo que extendió un impuesto existente sobre las parcelas de $8 por mes para 20 años más. Los $30 millones por año generados por el impuesto sobre las parcelas se utilizará para dar soporte a operaciones básicas y mantenimiento de los autobuses.
La Medida C1 proporciona los fondos necesarios para conseguir estos objetivos. Un comité independiente de vigilancia de cinco miembros compuesto por ciudadanos continuará vigilando las auditorias para asegurar que estos fondos se gastan para los propósitos citados en la Medida C1.
---
2016年11月8日周二,东湾选民以82%的支持率更新了C1议案。ACTransit在此诚挚地感谢大家为持续实现可靠的公交系统做出的努力,这样不仅方便个人出行,而且还能减少交通拥堵、保护环境。
感谢您的支持!
关于C1议案
C1议案是指ACTransit在2016年11月大选选票上所列的土地税更新。支持者以压倒性的选票通过了本议案,将现有的8美元/月的土地税再延续20年。所得的3000万美元税款将用来资助基本的公交运行和维修工作。
C1议案为这些目标提供资金支持。一个独立的5成员市民监督委员会将继续审查账目,确保资金用于C1议案所列目标。