The Free-Ride Holiday Bus Returns: December 2017
News Articles
12/04/2017
AC Transit has a long-standing tradition of celebrating the holidays by outfitting a bus with seasonal decorations. In 1963—just three years after AC Transit's inception—the first holiday-themed bus was launched into service. In the years that followed, the Holiday Bus became more and more elaborate, with vehicles being custom painted and adorned with handmade wooden graphics. These vehicles occasionally even included interior decorations, such as artificial poinsettias and holly branches. Legend has it that seasonal music was even played onboard.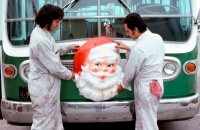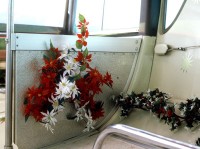 By the mid-60s, a full-size sleigh was affixed to the roof of the bus, in which "Santa" would ride to thrill children and adults alike. Times were much different then. These days, our Safety Department would never allow someone to ride on top of a moving vehicle. But, at least we have photos.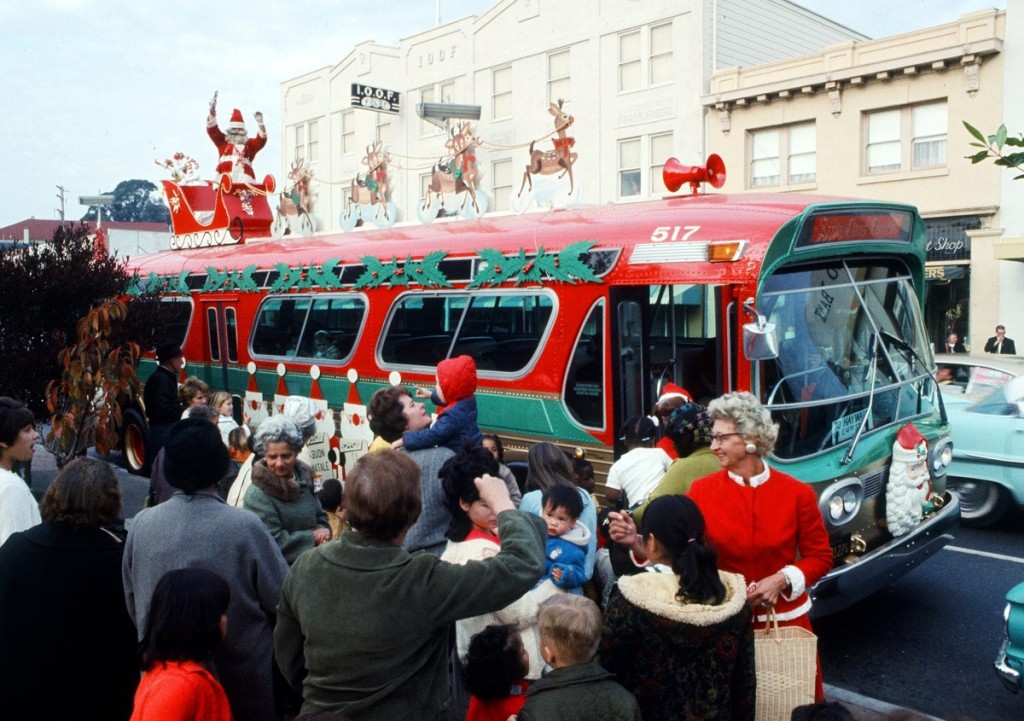 There have been many iterations of the Holiday Bus design throughout the years. Sometime in the 80s, vehicle décor changed from custom paint and bolted-on decorations to decals. 2008 saw the first use of a full custom vinyl wrap. No one can recall exactly when, but somewhere along the line AC Transit stopped collecting fares on the Holiday Bus—covering the farebox, and later the Clipper card reader, to prevent passengers from paying. Gifting riders with free fares on the Holiday Bus throughout the month of December has now become a cherished tradition at AC Transit.
54 years after the first Holiday Bus rolled into service, the theme of this year's bus is "Warm Holiday Wishes." The 2017 Holiday Bus features an eye-catching red wrap with a festive snowman and a seasonal message.
When you see it, climb aboard and ride for free. The Holiday Bus will appear on random routes within our service area in December. While onboard, be sure to pick up a free copy of our 2018 calendar that includes a great photo from our participation in this year's Warriors victory parade. We ask you to pay it forward by spreading some holiday cheer within our community.
AC Transit thanks you for your patronage, loyalty, and support. We are looking forward to exciting things in 2018.