Welcome to our Transbay Bus Pilot Project!
News Articles
12/07/2017
Welcome to our Transbay Bus Pilot Project!
Transbay ridership has grown over 30 percent in the last five years and AC Transit is working to determine appropriate bus purchases to meet the future ridership demand. To this end, we are testing a new, high capacity prototype bus designed to make boarding easier and faster for customers using mobility devices in December. This pilot is part of Transbay Tomorrow, a project designed to improve the Bay Bridge Transbay network.
From December 11th through December 29th, the bus will be in service to obtain feedback from our customers and employees. Your comments will help determine whether to consider this bus for our future Transbay fleet.
Interested in testing the new bus? You can ride it free!
Click here to view the Transbay Bus Pilot Schedule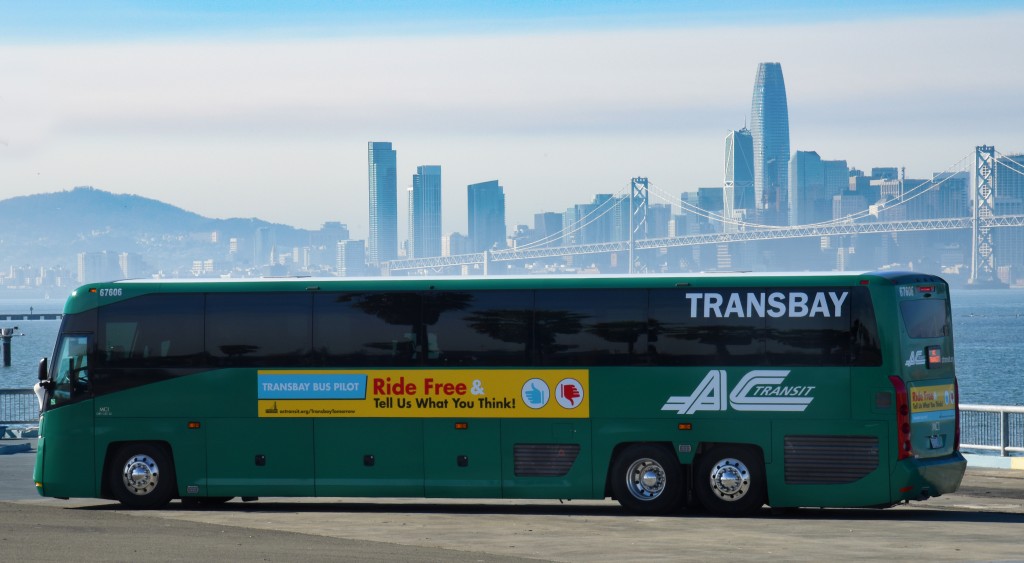 You can provide input by filling out a short survey onboard and returning it before you leave the bus. You can also send your comments or questions to planning@actransit.org.
Please note, AC Transit is committed to future purchase of Transbay buses that have Wi-Fi and can transport at least two bicycles, however, this test bus is not equipped with Wi-Fi or bike racks.
We appreciate your feedback on this project.

¡Bienvenido a nuestro proyecto de autobús piloto de Transbay!
El índice de pasajeros de Transbay ha crecido más de un 30 por ciento en los últimos cinco años y AC Transit está trabajando para decidir las adquisiciones apropiadas de autobuses para dar servicio a la demanda futura de pasajeros. Para este objetivo, estamos probando durante el mes de diciembre un nuevo prototipo de autobús de alta capacidad diseñado para hacer que subir a bordo sea más fácil y más rápido para los viajeros que usan dispositivos de movilidad. Este prototipo es parte de Transbay Tomorrow, un proyecto diseñado para mejorar la red Transbay en el Puente de la Bahía.
Desde el 11 hasta el 29 de diciembre, este autobús estará en funcionamiento para obtener opiniones de nuestros clientes y empleados. Sus comentarios nos ayudarán a decidir si consideramos este autobús para nuestra futura flota de Transbay.
¿Está interesado/a en probar el nuevo autobús? ¡Puede viajar gratis en él!
Haga clic aquí para ver el horario del autobús piloto de Transbay.
Usted puede proporcionar su opinión llenando una breve encuesta a bordo para devolver antes de bajarse del autobús. También puede enviar sus comentarios o preguntas a planning@actransit.org.
Tome nota de que AC Transit se compromete a adquirir autobuses de Transbay en el futuro que tengan acceso Wi-Fi y puedan transportar al menos dos bicicletas, sin embargo, este autobús piloto no está equipado con Wi-Fi ni con porta-bicicletas.
Apreciamos su opinión acerca de este proyecto.
欢迎参与我们的 Transbay 巴士试运营!
在过去的五年里,跨湾的乘客人数已经增长了30%以上,AC Transit 正在全力选购合适的巴士以满足未来的乘客需求。为此,12月我们要测试一种新型、大容量的巴士,目的是为使用公共交通的乘客提供更便捷,更好的乘车体验。该服务是 Transbay Tomorrow 计划的一部分,该计划旨在改善海湾大桥的跨湾交通服务。
12月11日到29日期间,巴士将收取乘客和员工的反馈。您的意见将帮助我们决定是否将测试巴士加至 Transbay 车队。
有兴趣测试新巴士? 您可以免费乘坐!
在此处查看 Transbay 测试巴士的时刻表。
您可以在车上填写一份简短的调查问卷,然后在下车之前将其交回。您也可以将意见或问题发送到planning@actransit.org。
请注意,AC Transit 致力于为所有的新 Transbay 巴士投入无线网络和双自行车架,但本测试车并不配备无线网络和车架。
非常感谢您与我们同行,以及您的反馈。