Transit Driver Appreciation Day 2018
News Articles
03/05/2018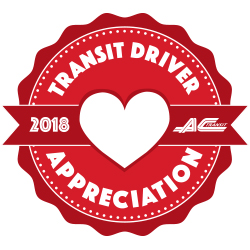 For hours on end, AC Transit operators check fares, remember routes, deal with detours, while maneuvering an extra-large vehicle through heavy traffic, tight spaces and tough weather conditions. It takes talent and dedication to operate a bus, and our drivers deserve our heartfelt thanks.
To help honor and celebrate AC Transit operators, we encourage you to thank them for their service on March 16, which is national Transit Driver Appreciation Day.
Here's several ways to express your gratitude and support:
Bring a Card or a note with a personal message and hand it to your operator.
Say a hearty "Thank you" when getting off the bus.
Ask permission first, then take a photo or a selfie with your driver. Tweet it to @rideACT, and use the hashtag #i♥teamACT.
We will frame and re-post your photos, and you'll be entered to win a T-Shirt and a free Day Pass.
Look for details on Twitter and Facebook after Friday, March 9.
Please say thanks to your driver on March 16- and every day of the year.