Our Gift to You: The Free Ride Holiday Bus Is Back!
News Articles
11/26/2018

It's the most wonderful time of the year—because our free-ride Holiday Bus will soon shift into gear, driving a month of good cheer. Starting November 26 and rolling through the stroke of midnight December 31, our specially wrapped Holiday bus will get you to the 'parties for hosting or to buy the marshmallows for toasting.' Since it's the best time of year, it is only fitting that the holiday's buses theme will be "HAVE YOURSELF A MERRY LITTLE BUS RIDE." Although it has no mistletoe, its unmistakable bold stripe and snowflake pattern, in AC Transit colors, make it clear by golly, to be filled with holly jolly cheer.
The tradition of a free ride Holiday Bus dates back 55 years. That is when our uniformed drivers made it known; they wanted to duplicate the tradition of another red-uniformed driver known for dashing town-to-town spreading joy along the way. As our time honored holiday tradition dictates, the Holiday Bus will operate on bus lines throughout our service areas for the remainder of 2018. It would not be a surprise if we revealed the bus lines in advance, so keep an eye out! When you see it, climb aboard and enjoy your free ride. While onboard, remember to pick up a copy of our 2019 calendar, your second gift, located in the onboard brochure racks. At this time of year, "Do You Hear What I Hear" may be on every radio but on the Holiday Bus the lyrics to timeless holiday songs will be just above your head.
Let us know if you have any other AC Transit or East Bay-related lyrics. Snap a photo, add your lyrics, and tag #ACTransit in the post. The most creative ones might be gifted an AC Transit T-shirt.
For those with kids, be sure to stop by AC Transit's Customer Service Center at 1600 Franklin Street in Oakland to pick up one of the limited-edition Holiday bus paper models, while supplies last. They'd make a great stocking-stuffer!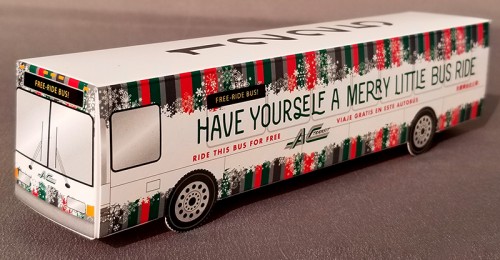 AC Transit thanks you for your continued patronage, loyalty, and support. We cannot wait to unwrap an array of new services and features coming in the New Year. For now, we wish you many more miles together on the roads of the East Bay.
Happy holidays…and have a holly jolly bus ride!