Board of Directors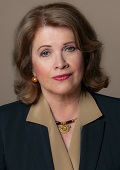 Elsa Ortiz
Vice President
Representing: Alameda and portions of Oakland and San Leandro
Term Expires:  December 2022
Statement of Economic Interests (Form 700):     2015     2016     2017     2018
Email: eortiz@actransit.org
Telephone: (510) 891-7211
Fax: (510) 891-4705
Biography:
Elsa Ortiz was elected in November 2006 and is serving her fourth term on the AC Transit Board of Directors representing the City of Alameda and portions of Oakland and San Leandro.
Until her retirement in December 2014, Ms. Ortiz worked as an attorney and policy consultant to former Presidents of the State Senate Don Perata and Darrell Steinberg on issues affecting Indian Nations.  She also served as Chief of Staff and Special Assistant to former California State Treasurer Bill Lockyer during his tenures as State Senator and Attorney General.
Ms. Ortiz earned her Bachelor's Degree with honors and teaching credentials from the University of California at Berkeley and her Juris Doctor from John F. Kennedy College of Law.  She has served on the Transbay Joint Powers Authority Board of Directors and currently serves on the Alameda County Transportation Commission.
Ms. Ortiz was President of the AC Transit Board of Directors in 2011, 2012, 2017 and 2018, and during her tenure on the Board spearheaded the development and adoption of the District's Buy American Goods policy, advocated for fiscal reform, and works to make sure buses are a key element in the construction of a Bay Area transportation network for the 21st Century.  She remains committed to providing the best service possible to riders.