Board of Directors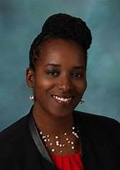 Jovanka Beckles
Director
Representing: Albany, El Cerrito, Richmond, San Pablo, El Sobrante, Kensington, North Richmond and a portion of Berkeley
Term Expires:  December 2024
Statement of Economic Interests (Form 700):    
Email: jbeckles@actransit.org
Telephone: (510) 891-7143

Fax: (510) 891-4705
Biography:
Jovanka Beckles was elected in November 2020 to serve on the AC Transit Board of Directors representing the Cities of Albany, El Cerrito, Richmond, San Pablo and a portion of Berkeley as well as the unincorporated areas of El Sobrante, Kensington and North Richmond.
Ms. Beckles graduated cum laude in 1988 with a bachelor's degree in Psychology from Florida A&M University and earned a Master of Business Administration degree from the University of Phoenix.
Over the course of her career, Ms. Beckles has worked as a counselor, youth educator, team builder and strategist, client advocate, crime prevention specialist, housing case manager for the homeless, and mental health specialist for 32 years and has been a small business owner in the City of Richmond.  She also served her community as a two-term member of the Richmond City Council, was President of the Richmond Heights Neighborhood Council and retains membership in numerous organizations, including Concilio Latino and the League of United Latin American Citizens, Delta Sigma Theta Sorority, Inc., Black Women Organized for Political Action (BWOPA-Richmond), Women in Politics, East Bay DSA and the Richmond Progressive Alliance.
With a long record of public service, Ms. Beckles is committed to working with riders and workers to build a universally accessible, emission free transit system that the public deserves.