AC Go Phase 2: Line Changes and Maps
trong tiếng Việt | 中文 | En español
Effective Sunday, December 18, 2016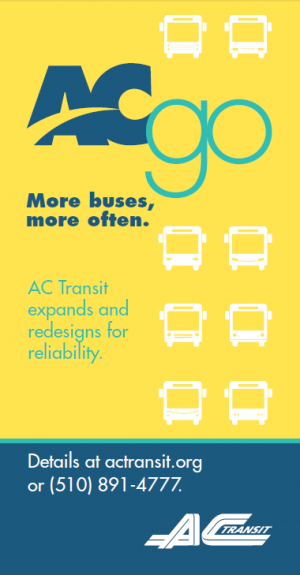 Click the 'PDF MAP' links below to open a printable map.
PDF MAP: LINE 19
Line 19 is new, and will operate between Fruitvale and Old Oakland via Buena Vista in Alameda. Service operates every 20 minutes during peak hours and 30 minutes during off-peak and on weekends. This line mimics portions of the old line 19 that used to serve this area.
PDF MAP: LINE 14
Line 14 is being adjusted to extend along 14th Street to West Oakland BART via Wood Street; it will no longer terminate at 11th and Jefferson. Weekend frequency will improve, from every 30 minutes to every 20 minutes.
More Information
For more information on the AC Go changes, contact Customer Service at (510) 891-4777.