AC Go Phase 2: More buses, more often.
trong tiếng Việt | 中文 | En español
Effective: Sunday, December 18, 2016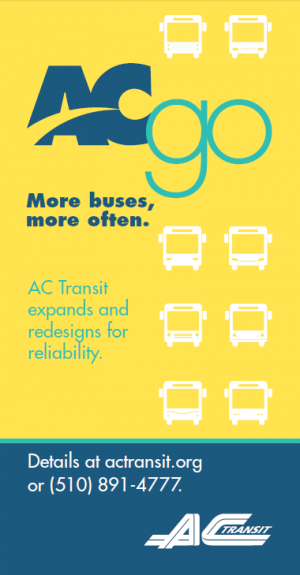 In 2015, AC Transit developed a district‐wide Service Expansion Plan (SEP) amounting to $25.4 million annually. The SEP aims to improve the existing service network by better meeting demand and providing more frequent and reliable service. AC Transit implemented the first phase of SEP, now known as AC Go, in June of 2016.
All told, AC Transit will be increasing service by 14-percent across four stages: June 2016, December 2016, March 2017, and December 2017.
The following bus service changes are being implemented on Sunday December 18, 2016 as part of the second phase of AC Go. These schedule updates are aimed at improving on-time performance and service reliability.
NEW LINE: LINE 19 IS NEW
and will operate between Fruitvale and Old Oakland via Buena Vista in Alameda. Service operates every 20 minutes during peak hours and 30 minutes during off-peak and on weekends. This line uses portions of the old line 19 that used to serve this area.
PDF MAP: LINE 19
ADJUSTED: Line 14 IS BEING ADJUSTED
to extend along 14th Street to West Oakland BART via Wood Street; it will no longer terminate at 11th and Jefferson. Weekend frequency will improve from every 30 minutes to every 20 minutes.
PDF MAP: LINE 14
Thanks, Measure BB!
AC Go is Measure BB – the Alameda County Transportation Commission sales tax – at work. Once fully implemented, AC Go will increase service by as much as 14 percent through that funding. AC Transit plans to invest the majority of its estimated $30 million share of annual tax revenues on the improvements outlined in AC Go.


More Information
View AC Go Line Changes and Maps
Specific details about how the changes coming in December will impact your trip are available by calling Customer Service at (510) 891-4777.