Explore the East Bay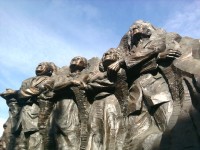 Alameda
Berkeley
Oakland
Hayward, Fremont and Newark
Richmond
Like most people who live or work in the East Bay, we at AC Transit continue to delight in the beauty and diversity the region has to offer. We would like to share a few highlights — all served by AC Transit buses — with those who are visiting this site from elsewhere in the country and the world. These are just a few of the fascinating destinations served by AC Transit.
Note that not all bus lines have stops directly at these destinations; some may be a few blocks away. Check the map for each line for more specific information.

Ardenwood Farm is a time capsule of a prosperous, 19th-century country estate. It includes a beautiful mansion and elaborate Victorian Gardens. Today the Historic Farm exhibits agricultural practices from the 1870s to the present. It demonstrates the transition from horse-powered machinery to mechanical horsepower. Schedule for:
Line 232
Line 264
Line 275
Line 332 (weekends)
Line 333 (evenings)
Line 345 (weekends)
Built to commemorate the City of Hayward's 100th birthday, Centennial Hall qualifies as one of the Bay Area's outstanding event venues. Combining modern design and advanced technology, the facility features a 14,000-square-foot auditorium, eight meeting rooms, an executive conference room, a sky-lit lobby and two spacious mezzanine areas. Schedule for:
Built in 1910 by Southern Pacific, the Centerville Depot was one of more than 60 train stations of this design. Acquired by the City of Fremont in 1993 and restored for use with Amtrak's Capitol Corridor and the ACE commuter trains, it is the only station of its type still in use for rail passenger service. Schedules for:
Line 99
Line 210
Line 216
Line 251
Line 264
Line 275
Line 801 (late night)
The Chabot Space & Science Center is a magnificent state-of-the-art museum and observatory offering a hands-on celebration of sights, sounds, and sensations. The Center features exhibits, a planetarium show, and three massive telescopes. Schedules for:
One of the East Bay's most popular shoreline preserves, Crab Cove has several miles of sandy beaches with calm water where kids can safely swim and wade.
The Visitor Center has an exciting array of three-dimensional exhibits showing who is doing what in the Bay nearby. You won't need SCUBA gear to see what's happening beneath the water's surface because a large saltwater aquarium is alive with Bay creatures. Naturalists are available to provide a wide variety of educational programs, nature walks and demonstrations. The Elsie B. Roemer Bird Sanctuary, at the southern end of the beach, has a saltwater marsh where you can observe a large variety of shorebirds and waterfowl. Schedules for:
The Oakland Museum of California is dedicated to the art, history, and natural science of California. The Oakland Museum of California is the only museum devoted to the art, history, culture, and natural environment of California. Opened in 1969, the museum's architecture, designed by Kevin Roche, is a three-tiered blend of galleries, terraces, patios, sculpture gardens, and ponds.
Line 1
Line 11
Line 14
Line 18
Line 26
Line 40
Line 62
Line 88
Line 801 (late night)
Line 840 (late night)
Nestled in the 525-acre Knowland Park in the Oakland Hills, the zoo houses more than 400 native and exotic animals. The exhibits are organized geographically and reflect the ecosystems of the animals' native habitats. Visitors can enjoy rotating cultural exhibits in the education center, and kids will love the new butterfly garden and the 'rides area,' with a roller coaster, an 'endangered species carousel,' and a train. Schedules for:
The Remember Them monument is powerful public art, a massive sculpture featuring 22 "champions for humanity." The individuals depicted–from Frederick Douglass to Helen Keller to Thich Nhat Hanh–were chosen for their compassion and courage. Each is a testament to the power of the individual to influence history for the betterment of all. Visit the monument via these bus lines:
Line 1
Line 11
Line 12
Line 18
Line 51A
Line 72
Line 72M
Line 72R
Line NL
The Lawrence Hall of Science features hands-on exhibits, special events, discovery labs, after-school classes and summer camps, planetarium shows, and more. Ask the bus driver for a transfer (25¢), and redeem it at the Lawrence Hall of Science for a $1.00 discount on your admission price. Schedules for:
The Silliman Activity Center offers a variety of entertainment for all ages including a family Aquatic Center schedules and specialized centers for seniors, teens, and preschoolers. Schedules for:
Line 216
Line 232
Line 242
Line 251
Line 264
Line 345 (weekends)
A remarkable institution dedicated to promoting peace and cross-cultural understanding through art, the Richmond Art Center offers classes for children and adults in ceramics, textiles/weaving, jewelry/metal arts, painting, drawing, sculpture and much more. Schedules for:
A great place to hike and walk, Tilden Park is also home to the popular Environmental Study Center and Little Farm. The Education Center house a small museum with interactive activities that focus on the wildlife and vegetation found throughout the park. The Little Farm with its chickens, pigs, goats, cows and donkey is a special favorite with younger children. From the Center and Farm, it's only a short walk to idyllic Jewel Lake where you're likely to see resident turtles or a Great Blue Heron. Served by Line 67 (enters park weekends only). Schedule for:
This world-famous institution is one of the foremost public universities on the planet. It is home to more than 30,000 students and an eminent faculty that includes six Nobel Laureates, 18 MacArthur Fellows and one National Poet Laureate. The University is home to several museums and recreational facilities open to the public, as well as the ever-popular Cal Bears football and basketball teams. Schedules for:
Line 1
Line 7
Line 12
Line 18
Line 25
Line 49
Line 51B
Line 52
Line 65
Line 67
Line 88
Line F
One of the most distinguished World War II aircraft carriers, with a remarkable record, the Hornet was also the rescue ship that picked up the Apollo 9 astronauts on their return from the moon. The ship is now a museum open to the public. Schedules for: